The Shocking Story of the Titanic Newspapers Told
The headlines on original Titanic newspapers were dramatic, frightening, and unforgettable.
"Over 1,200 Lives Probably Lost When Mammoth Steamer Titanic Is Sunk" is one of the many dramatic headlines declaring one of the worst disasters in modern history. This headline is courtesy of the St. Paul Pioneer Press from April 16, 1912 (pictured below). Newspapers initially reported death tolls ranging from 1,200 to 1,800 before 1,517 was eventually announced as the death count.
Many newspapers printed large photos of the Titanic on the front page with bold headlines to announce the disaster. Since no one was present to photograph the disaster, the newspapers had to decide how to depict the event to accompany their dramatic headlines. Some published images of the Titanic taken when it was docked in England. Other newspapers used actual images of the Titanic, and attempted to re-create the look of the semi-vertical, partially submerged ship. Others simply allowed illustrators to create their own image of how they imagined the disaster appeared to actual witnesses.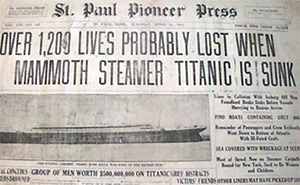 St. Paul Pioneer Press from April 16, 1912