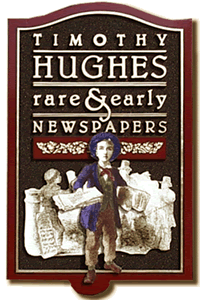 What might I find?

Read the Boston Gazette of March 12, 1770 and learn of the massacre in that city and gain an appreciation of the revolutionary spirit never before imagined. Read first-hand reports on the Civil War. View the banner headlines of some of the most historic events from the 20th century. Every newspaper offered is a first-hand reflection of life at that time, when descriptive ads for runaway slaves were commonplace; when Paul Revere advertised his bell foundry in local papers; when recently enacted laws, signed in type by George Washington, were published in the daily paper. Feel free to view our videos which explain the intrigue of collecting rare newspapers, which show views of our business, and which offer recommendations for starting your own collection.



Why so inexpensive?

Find newspapers published during George Washington's administration for $35, or issues with front page accounts of Indian skirmishes for $27. Genuine issues published in 1685 are offered for as little as $27. A hobby still very much undiscovered by the public, prices for genuine, complete newspapers dating as far back as the 1600's are very low due to limited demand. For over 30 years we have dealt exclusively in the niche market of early newspapers, buying in huge quantities at very low prices to amass an inventory of over two million issues which we now make available to you, the historical hobbyist.

What do I get?

All issues are complete and in good condition. Since all are original issues (not reproductions), slight imperfections such as light foxing (browning due to age) or staining, small margin tears, an occasional front page original owner (often library) stamp, and slight fold or edge wear are common. Most issues were once bound into volumes at the end of a year for preservation and bear minor left margin irregularities due to the disbinding process. None of these imperfections cause content loss. Many newspapers dated from the 1880's through the 1920's are pulpish (fragile) due to the use of wood pulp & chemicals in making paper during this period and appropriate care must be given. Some issues (especially magazines) were originally published with covers or wrappers, but unless described otherwise, they have long since been removed.

But don't they just fall apart?

To the surprise of many, newspapers published before 1880 remain in very nice condition as the newsprint had high cotton and linen content. Most issues from the 1600's and 1700's are in much better condition than issues from World War I, hence little care is needed for issues over 130 years old.

How soon will my order be shipped?

The orders are typically processed/shipped within 24 business hours of receipt of payment (cash, check, money order, Paypal, credit card). We are able to complete our orders quickly as we sell only from our existing inventory.

Is there a guarantee?

All issues are guaranteed to be authentic originals, to arrive safely, and to be as described. We provide a 10 day full money-back return policy if you find this to not be the case. A Certificate of Authenticity is available for all items sold should a permanent documentation be desired to assure future owners.

The historical background of the use of f versus s

Collectors often note the strange spelling of words from the 17th & 18th century, particularly the use of a "f" where seemingly inappropriate. Centuries ago before the printing press there were grammatical reasons for use of a serpentine-styled "s" to be used rather than the more typical "s". Its look was as if an "s" was elongated and leaned to the right. When this letter was converted to a block letter for the printing press (around 1500) it looked much like an "f" but with the slash through one side & not the other--look carefully and note the difference. This letter caused confusion with the "f" ever since, and around 1750 publishers were abandoning this letter in favor of the more typical "s", and by 1800 it was almost universally abandoned.

What do you mean by "second rate"?

Most of our Harper's Weekly issues are also offered in "second rate" condition. A second rate issue is somewhat worn, possibly with edge tears, some light staining, rubbing, or other minor disfigurements. All pages are present with no cut-outs but the prints contained within the issue, if prints were present, would not be suitable for framing. An acceptable issue for researching content only, or if condition is inconsequential. A 2nd rate issue is 2nd rate throughout. To view examples of 2nd-rate issues, click here.

How can I become a member of Rare Newspapers... History's Newsstand?

We provide both Basic Memberships (Free) and Premium Memberships ($18).


How can I tell if an issue is authentic?

It was not unusual for newspapers to celebrate the anniversary of an historic event or their inaugural issue by reprinting that issue for their subscribers or the general public. Never meant to deceive, through the years such issues were tucked away in attics and dresser drawers as interesting souvenirs only to be uncovered by distant relatives convinced they found the genuine item.

Although only an expert examination can definitively qualify a newspaper as genuine or a reprint--and such experts with sufficient knowledge & experience are few & far between--there are a few clues which can guide a novice in making a determination:

Does the newsprint match that used at that time? Genuine pre-1880 newsprint usually has a high rag content and is very pliable, sturdy & reasonably white. Most reprints in the post-1880 era are more browned, fragile and lacking in physical substance.

Does the issue contain an historic or significant report? Many reprints contain very historic reports rather than mundane news of the day. Genuine historic issues are rarely found randomly outside of a larger collection.

Is the issue a volume one, number one issue? They were commonly reprinted on anniversary dates.

Does the format, content or any extraneous printing on the issue appear out of the ordinary? Many reprints were used for promotional purposes and altered to serve another purpose beyond just reprinting a genuine newspaper.

Reprint, fake, or facsimilie newspapers are a rarity in this hobby with the vast majority of such issues limited to less than 20 titles. The Library of Congress maintains a check-list of points to look for on most of these issues and can be viewed on their site:

The Honolulu Star-Bulletin, bombing of Pearl Harbor issue dated December 7, 1941 - Is mine authentic? Most of the Star-Bulletin issues on the market today are the reprint editions. The genuine is eight pages and has an ink smear between the A and R in the large word WAR! in the headline. Feel free to use our website's search engine (12/7/1941), to see an authentic version (if one is currently available). You will see the spot clearly. Typically, reprints have cleaned up the spot to make the paper look better. Reprints also have "2nd Extra" and "3rd Extra" headlines on inside pages. Originally printed independently, the 2nd and 3rd Extras were incorporated into reprint versions. One can still buy reprints at the souvenir stand of the Pearl Harbor memorial. We only offer genuine issues.

Why does my paper look as if it came from a book?

This is a common question many newcomers ask upon their 1st encounter with a rare newspaper from nearly every era (Revolutionary War, Civil War, Old West, and even Birthday/Day-You-Were-Born issues, to name a few). Whether it is the rough left spine present from the issue being removed from a larger volume, or the consecutive numbering which results in only the first issue printed during the year to have a "page 1", a novice's immediate (and logical) reaction is that the issue must have come from a book and therefore must be a reprint. However, the truth is actually the opposite. Such signs are good indicators that the issue is likely authentic. To understand this, what is needed is a knowledge of how historic newspapers and magazines were handled up to as late as the 1960's.

Many publishers of early newspapers started numbering their pages from 1 at the start the year and continued with the consecutive numbering throughout the year. This made it very easy to reference content. Examples of early well-known titles which did this are Harper's Weekly, The War, Gentleman's Magazine, Niles' Register, and Leslie's Illustrated, to name a few. Although this gave the newspapers a book effect, early readers would not have given this another thought. As far as the spine residue/disbinding evidence (which gives the appearance that the issue came from a book) is concerned, nearly every institution which held rare newspapers bound them together at the end of each year for protection & permanent storage in libraries. Almost all newspapers through the 1960's were held in this manner. Your local library likely holds its early newspapers in this form. Two resources which may alleviate any concerns you might have related to this issue are the Library of Congress' Newspaper Division & the American Antiquarian Society.

What is the value of my newspaper?

Recognized as the authority in the sale & value of early & historic newspapers, we receive many requests from all corners of the globe for information and values for recently found newspapers. As one might suspect, there are many factors which determine value, and much like a jeweler cannot give a value of a diamond via email or a phone call, our ethics would not permit us to place values on newspapers without seeing the issues in hand to determine authenticity, condition, news placement, etc. We do suggest that you visit our website (see "Home" link) where we have over 10,000+ historic newspapers encompassing over four centuries, and use our search engine to fine issues comparable to what you have. If you desire to offer your issue/s for sale to us, please call us at 570-326-1045.

How was 17th & 18th century paper made?

The handmade paper used in the 17th and 18th centuries can be distinguished from paper that was made later by holding the paper up to a light and looking for "chain-lines" which were left from the wires in the paper mold. With this method, fewer fibers accumulate directly on the wire, so the paper is slightly thinner and more transparent to light. This pattern is usually very apparent and appears as lines that run about an inch apart, with several horizontal short lines connecting the long wire lines. Some modern paper has artificially-applied chain lines, and is usually referred to as "laid" paper, which is the name given to handmade chain-line paper. The handmade chain-line paper was made of cotton and/or linen rags, which were soaked in liquid until the fibers broke down into bits. Paper was formed by hand by dipping a paper mold into the fiber suspension, and then lifting and shaking off the excess water. The paper sheet was then partially dried before being removed from the mold. Modern handmade paper (used in fine printing of small editions by private presses, as well as in artists books) is basically made by the same process. Wood pulp paper (made with a sulfite process that causes high acid residue in the paper) wasnt widely used in the United States until after the Civil War. A breakthrough in papermaking occurred when "wove" paper was invented. Wove paper was first used in a book printed in America in 1795. Wove paper, which shows no chain-lines, is made on a wire mold often made of brass and/or bronze wires that have been woven like fabric. Therefore, there is no chain-like pattern, and the paper has a much smoother appearance. After 1800, wove paper became the standard paper for books and other uses, although there was still some laid or chain-link paper in use through the 1820s and beyond. The first machine-made paper in America was made in 1817 in Brandywine, Delaware, and the first newspaper printed on this paper was "Poulson's Daily Advertiser. The major start in manufacturing paper by machine began when a French paper machine called the Fourdrinier was introduced in New York in 1827, followed by the manufacture of more of the machines two years later in Connecticut. Machine-made paper is more uniform in thickness, lacks the uneven edges of handmade paper and is weaker and more prone to tearing. Machine-made paper is made on a continuous wire mold which usually has watermarks. Although it can be hard to tell machine-made wove paper from handmade wove paper, handmade paper is usually thicker and also varies in thickness from piece to piece. The last major development in paper manufacture was the development of wood pulp paper, which was much less expensive to manufacture than rag paper. The first successfully-made wood pulp paper was manufactured in Buffalo, New York, in 1855. By 1870 a large percentage of the total paper produced in the U.S. was still rag paper. Most of the newspapers printed in the U.S. during the Civil War period survived because they were essentially acid-free 100% rag paper, but the newspapers printed in the 1880's turn brown because of the high acid content of the wood pulp paper. In 1882, the sulfite wood pulp process that is still in use today was developed on a commercial scale and most of the high acid content paper was used thereafter in newspapers, magazines and books.

Pre-1800 Printing... a little background

Type was handset in the 18th century and all margins were (typically) of equal size from top to bottom. As part of the inherent crudeness of making paper back then, individual sheets might have slightly different shapes but in general all sheets were retangular, wider than tall with pages 1 & 4 of a newspaper printed on one side and pages 2 & 3 printed on the other, then folded in half to produce the typical 4 page newspaper. It was rather common for even a regularly shaped sheet to be put on the printing press slightly askew, causing the printed sheet to appear somewhat crooked, keeping in mind everything was done by hand, and often by young hired hands. We have seen a few instances where an irregularly shaped sheet caused the print to run off one of the edges. Also, newspapers and magazines were often bound into volumes at the end of the year with the three exposed edges trimmed to look neat, and in the trimming process some text can be trimmed off if the newspaper was bound into the volume askew, or if the trimmer simply took off too much blank margin to even up the edges.



Pricing Philosophy... Do you lower prices?

Many years ago, since many of our customers were both collectors and resellers (dealers), we made a decision--maybe not the best--to maintain a single price structure with our prices being as low as possible up-front rather than create an artificially high price (for retail customers) then offer a 10%-20% discount to make the items more attractive (for resellers). As a result, our prices typically have remained under those offering similar material. However, there has been the inevitable problem of disappointment when someone expects a discount (not understanding our pricing), presuming we build in room for such--which we don't. So although we have lost sales with our policy, in the long run we believe people have appreciated our honesty and integrity.



Do you search for content (custom research for specific needs)?

We have a small staff which limits our ability to handle requests for issues containing specific content. However, we are happy to do so as time permits if we believe there is a reasonable chance the content may be found in a timely manner. Since such requests take time, and are not always fruitful, we do factor in our time into the offering price for such items. The minimum price for custom research projects is $48/issue, adjusted upward for content, issue collectability, and time spent. Whenever possible, we try to establish a potential price range upfront. Patience and understanding is always appreciated.


---

Terms Commonly Used in Our Item Descriptions

Octavo (8vo): Approximately 8 1/2 by 5 inches. Popular size for 18th Century magazines.

Quarto (4to): Approximately 12 by 9 inches. Common size for many early newspapers.

Folio: Full size. Eighteenth century issues are approximately 17 by 11 inches, while 19th century issues come closer to present day newspapers.

Foxing: Dark spots due to age, chemical content of the paper, or storage environment.

dblpgctrfld: Doublepage centerfold. A print, typical in Harper's Weekly, which stretches across two pages.