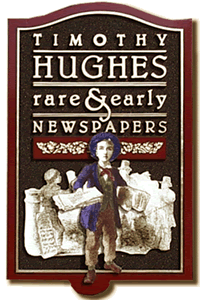 Periodyssey specializes in significant and unusual American periodicals. They are the largest company in New England specializing in pre-1930 American magazines. Click here for their website:
Periodyssey
- or you can contact them by e-mail at questions@periodyssey.com or by phone: 413-527-1900, or by fax 413-527-1930.
Over 15 million digitized newspapers from throughout the United States, available for genealogical research at no cost.
While original New York Herald and New York Times issues regarding Lincoln's Assassination exist, many are reprints. Since a number of reprints were made over 100 years ago and have been passed down from generation to generation, considerable effort has been taken to help distinguish the originals from the reproductions.
Vintage postcards and old antique postcards for postcard collectors and postcard collecting. Better antique postcard views and other scarce paper ephemera. All original, all the time. No reproductions, ever. Buy with confidence.
Note: VintagePostcards.org also maintains a blog at:
VintagePostcards.org/blog
G.S. McLelland's OldWestHistory.Net "Another one caught in the Net" THE PAPER TRAIL The Paper Trail - specializing in Ephemera, Advertising Art, Illustration Art, Postcards, and other Advertising Collectibles since 1997.
Texas history and Frontier genealogy - written by those who lived it!
Civil War, Revolutionary War, abolitionist, Black America documents, letters, abolitionist; antique china, silver, paintings., etc..
A collection of Sepia Photographs of the early 1900's. Old Photo Street Scenes, Images, Pictures & Views of London and its Boroughs, and the Town & Villages of the South of England.

Dedicated to keeping the history and lore of the American West alive for over 50 years.
A research and price database for antiques, collectibles, fine and decorative art.