What do you mean by "2nd-rate"?
A "second rate" issue is somewhat worn, possibly with edge tears, some light staining, rubbing, or other minor disfigurements. All pages are present with no cut-outs, but the prints contained within the issue, if prints are present, would not be suitable for framing. An acceptable issue for researching content only, or if condition is inconsequential. Please do not request for us to confirm that an issue offered at the 2nd-rate price contains a print or prints which are in good condition. A 2nd rate issue is 2nd rate throughout and will have significant disfigurations (see example below)!
Are 1st-rate issues "perfect"?
No. Nearly all 19th century newspapers, including Harper's Weeklies, come from institutional/library bound volumes. The issues often have some wear from handling and/or from the disbinding process. They may have very small foxing spots, a slightly rough left spine (no loss), a bit of minor rubbing, a soft mid-fold (but not crease), very small binding holes in the centerfold print, and/or edge tears (archivally mended). However, they are complete, have no damage, do not have non-archival mends, and do not have significant staining. If you order (or are considering ordering) a 1st-rate issue and need a specific print to not have these minor/typical flaws, we are happy to verify... and to email you a photo for your inspection. There is no up-charge for this service. If this is desired, be in touch!
*Exception
On occasion we may have an issue which is quite expensive due to a highly collectible single print, and therefore, hard to find (ex. issues with Thomas Nast Santa Clause prints, those related to Lincoln's Assassination, Homer's "Snap the Whip", etc.). If we have an issue in which the key print is either missing or not in good condition, we may be able to offer the issue at a significantly reduced price which still has desirable prints in very good condition. However, these instances are rare.

Examples of 2nd-Rate Issues: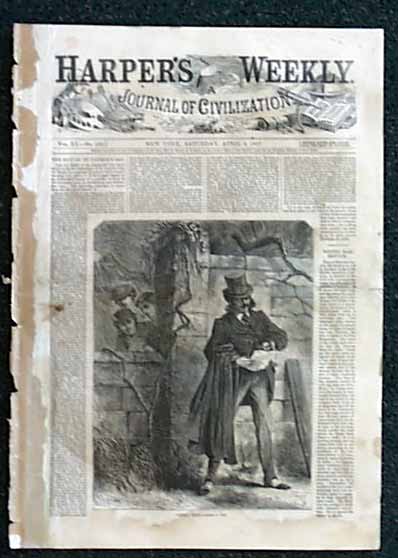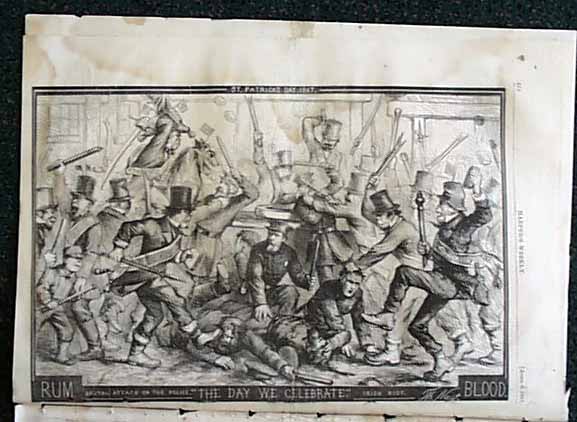 Examples of 1st-Rate (very good) issues: