Home
> Two fine accounts of the Battle of Bunker Hill...
Click image to enlarge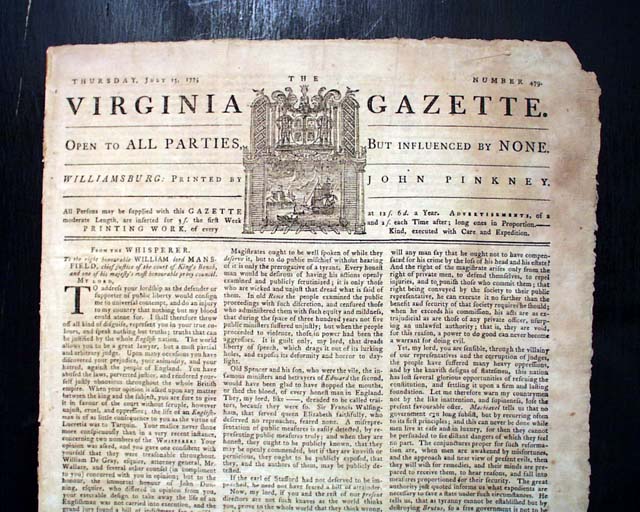 Show image list »
Two fine accounts of the Battle of Bunker Hill...
Item # 656584
July 13, 1775
VIRGINIA GAZETTE, Williamsburg, July 13, 1775

* The Battle of Bunker Hill
* American Revolutionary War
* Very rare Colonial Virginia title

This newspaper was published by John Pinkney, a distinction to be made since there were three newspapers of this title printed in Williamsburg during the early period of the Revolutionary War. Pinkney continued this title which previously was published by Virginia's first woman printer, Clementina Rind, A rare opportunity for a scarce title from colonial Virginia.
Certainly the prime content is the page 3 report of the Battle of Bunker Hill, from a letter: "...from Mr. Isaac Lathrop, one of the Provincial Congress at Watertown, to Major General Davis Wooster..." with the letter datelined at Watertown, June 22, 1775.
This is a terrific account which includes in part: "Before this reaches you, you will doubtless hear of the engagement of last Saturday between our troops and those of the army at Boston; but lest you should not be well informed, I will now undertake to give you as regular an account as can at present be obtained..." and what follows are the details of the battle, one portion including: "...Last Friday evening, a detachment from the camp at Cambridge marched to Charlestown, and there took possession of Breeds-Hill…about two o'clock, when a large army of between four and five thousand men…under the command of General Howe landed on the back of the hill, and marched up with great seeming resolution towards our lines; our men reserved their fire till the enemy had advance very near, when a general engagement ensued; the fire from our lines was so excessive heavy, and made such a terrible slaughter as obliged the enemy twice to give way…".
Included is mention of the death of General Warren who was killed in the action at Bunker Hill: "...The brave & worthy Dr. Warren was killed, stripped, and buried within the entrenchment. Our numbers killed are not yet known, but by the best accounts I can obtain, it will not much exceed 30...".
Unlike reports in many other newspapers which are sketchy & fragmented, this report has much detail.
As if this was not sufficient, pages 2 and 3 contain yet another account of the Battle of Bunker Hill, datelined from Weathersfield June 22 which is an even more detailed account of the battle. Near the beginning is: "Before this you must know (I conclude) that there has been a battle in which fell the honourable, the noble doctor Warren...I will endeavour...to relate to you how the affair was as by the best account I can gather..." and then the letter proceeds with the details of the battle. See the photos--too much fine reporting to list here. But the report does end with a great item: "...We greatly rejoice to hear of the coming of the good, the brave, and great, General Washington; we shall receive him with open arms."
Page 2 has: "The Address of the Provincial Congress of the Colony of New York" to "...George Washington, Generalisimo of all the forces raised, and to be raised, in the confederated colonies of America." This is their congratulations on his appointment as Commander-in-chief of the colonial forces. It is followed by his response signed in type: G. Washington.
Also on page 2, and taking nearly half the page, is a: "...Letter from General Lee to General Burgoyne, Upon his Arrival in Boston" dated at Philadelphia, June 7, 1775. It is a terrific letter with much respect for their past friendship, but Lee wonders why his friend is now fighting against the colonists: "...I sincerely lament the infatuation of the times, when men of such a stamp as Mr. Burgoyne & Mr. Howe can be seduced into so impious and nefarious a service of the artifice of a wicked & insidious Court and Cabinet. You, sir, must be sensible that these epithets are not unjustly severe...I shall not trouble you with my opinion of the right of taxing America without her own consent...as I am afraid...that you have already formed your creed on this article..." with much, much more. It is signed in type: C. Lee.
Four pages, never-trimmed margins, some light foxing, a large & handsome engraving in the masthead, very nice condition.
Category: American