Home
> 1953 Joseph Stalin Death...
Click image to enlarge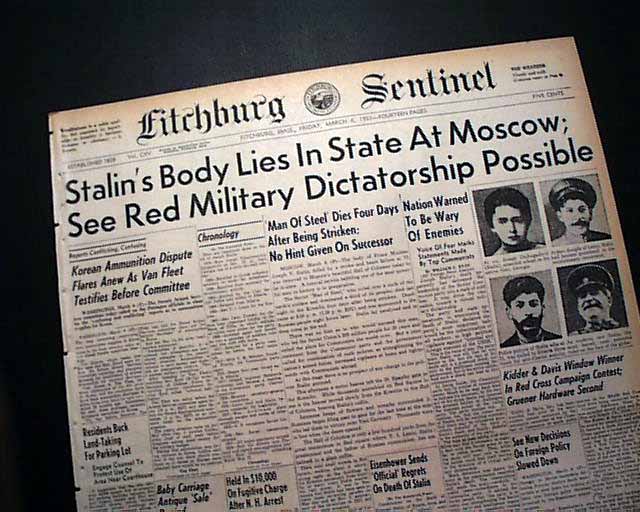 Show image list »
1953 Joseph Stalin Death...
Item # 547686
March 06, 1953
FITCHBURG SENTINEL, Fitchburg, Massachusetts, March 6, 1953

* Russian Premier, Joseph Stalin's death

This 14 page newspaper has a nice two line banner headline on the front page: "Stalin's Body Lies In State At Moscow; See Red Military Dictatorship Possible," with subheads that include: "Man Of Steel Dies Four Days After Being Stricken; No Hint Given On Successor" and more with with pictorial of Stalin.

Other news of the day. Little browning around the margins, otherwise good.

source: wikipedia: Joseph Stalin (born as Iosif Vissarionovich Dzhugashvili ) (December 18, 1878 – March 5, 1953) (Russian: Иосиф Сталин; Georgian: იოსებ სტალინი) was General Secretary of the Communist Party of the Soviet Union's Central Committee from 1922 until his death in 1953. During that time he established the regime now known as Stalinism. As one of several Central Committee Secretariats, Stalin's formal position was originally limited in scope, but he gradually consolidated power and became the de facto party leader and dictator[2] of the Soviet Union.

Stalin launched a command economy in the Soviet Union, forced rapid industrialization of the largely rural country and collectivization of its agriculture by confiscating the lands of farmers, who Stalin derogatorily referred to as "kulaks" - millions of whom were brutally murdered, exiled to Siberia, or died of starvation after their land, homes, meager possessions, and ability to earn an existence from the land were taken to fulfill Stalin's vision of massive "factory farms." While the Soviet Union transformed from an agrarian economy to a major industrial powerhouse in a short span of time, millions of people died from hardships and famine that occurred as a result of the severe economic upheaval and party policies. At the end of 1930s, Stalin launched the Great Purge, a major campaign of political repression. During the continued repressions in the country under Stalin millions of people who were a threat to the Soviet politics or suspected of being such a threat were executed or exiled to Gulag labor camps in remote areas of Siberia or Central Asia. A number of ethnic groups in Russia were forcibly resettled for political reasons.

Although during Stalin's rule, the Soviet Union played a major role in the defeat of Nazi Germany in the Second World War (1939–1945), Stalin is also credited with starting World War II by entering into a secret agreement with Nazi Germany to carve up the nation of Poland, as part of the Molotov-Ribbentrop Pact of 1939 which led to the Soviet Union's invasion of Poland from the east later that same year, following Nazi Germany's invasion of western Poland. Under Stalin's leadership, the Soviet Union went on to achieve recognition as one of just two superpowers in the post-war era, a status that lasted for nearly four decades after his death until the dissolution of the Soviet Union.
Category: The 20th Century
Available Now
$42.00

Add to Cart