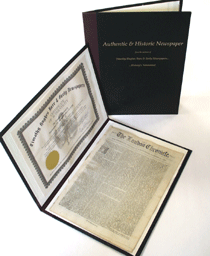 The small and medium-size gift portfolios have a black, buffalo-grain, vinyl, hard back cover with a mahogany spine (
image shown on left

).

The large (

new style

) portfolios have a heavy stock, soft back, black cover and attractive, gold tone, metal corner protectors, with a mahogany spine (

view large portfolio

).

Both styles include the Timothy Hughes Rare & Early Newspapers' logo on the front.

The newspaper is to be placed within an archival-quality, transparent, inner sleeve for protection and display. Makes a great presentation for that extra special gift!
*

Although rare, some issues are either too wide or too thick to fit safely within the portfolio.

When this occurs we will place only the front/key section within the portfolio and the remainder of the issue within an archival folder. If you would prefer for this to not be done, please include a note in the comment field at checkout stating so.
Single-issue storage/display for all sizes of newspapers...
Note: The Certificate of Authenticity shown on the left side of the image of the small/medium-size portfolio is sold separately.
13" x 9 3/4" Portfolio (S) ...
$24.00
17" x 12 3/4" Portfolio (M) ...
$30.00
26" x 20" Portfolio (L) - new style ...
$36.00