Home
> An unusual ad quite rare two issue set... Richmond Switch disaster and Colfax Court House massacre...
Click image to enlarge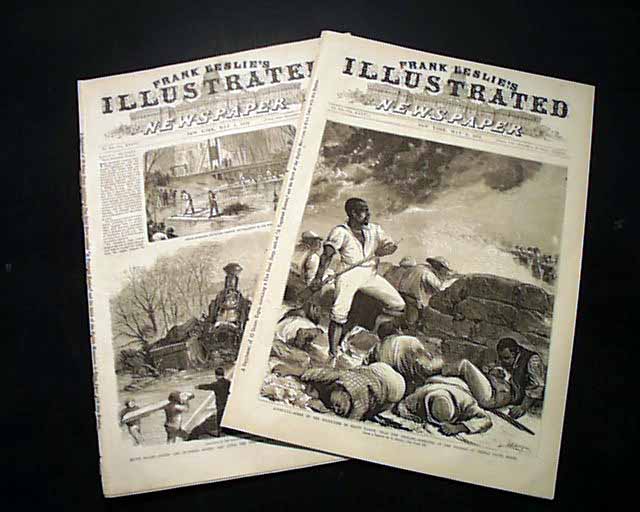 Show image list »
An unusual ad quite rare two issue set...
Richmond Switch disaster and Colfax Court House massacre...
Item # 608262
May 03, 1873
FRANK LESLIE'S ILLUSTRATED NEWSPAPER, New York, May 3 and May 3, 1873 - a two issue set.
A two issue set of the same title with the exact same date? Yes. In regards to standard daily newspapers, especially those printed for major city distribution, it was not uncommon for there to be multiple editions of the newspaper printed on the same day - perhaps a morning and evening edition. However, we have yet to discover a weekly illustrated newspaper who printed more than one version of an issue on the same day. It is this lack of discovery to-date which makes this two-issue set rather interesting. Frank Leslie's Illustrated apparently printed two nearly identical but different issues for May 3, 1873... each having a different cover. One might think they accidentally reprinted a cover from a previous week for some of the issues, but we have had the other issues surrounding this date, and none of them have either cover in question. Additionally, while the inner pages are almost all the same, there is also another page (pg 125) which is different. Everything else is identical. This anomaly has inspired us to offer these as a set.
The cover of one has: "Louisiana - Scene Of The Hostilities In Grant Parish, Near New Orleans - Massacre Of The Negroes At Colfax Court House", and the other has: "Rhode Island - Scenes And Incidents During And After The Terrible Railway Accident Near Richmond Switch." Other images and news of the day are present throughout both issues (see images).
The Colfax Court House print had a segment sliced from it - but it has been repaired archivally with no loss... as is another incidental page. The Rhode Island print issue has a small piece missing from an inner inconsequential page (see images). Both issues are complete and are otherwise in very good condition.

Background: Additional (and quite interesting) information may be found at Colfax Massacre and Richmond Switch Disaster (Rhode Island).

Category: Post-Civil War