Click image to enlarge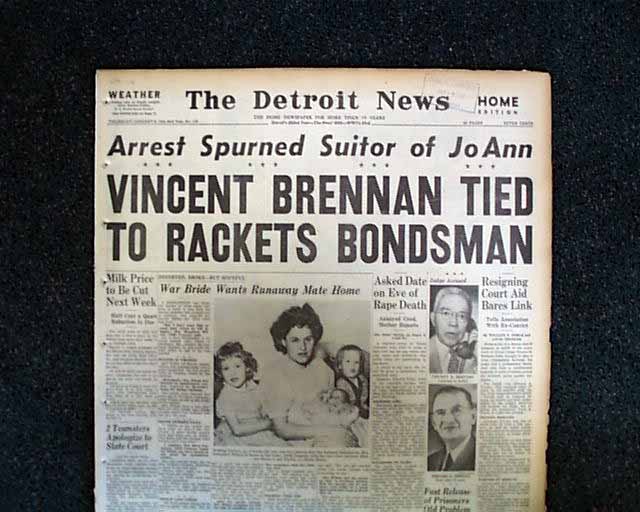 Show image list »
Korean War Era Original Deluxe Gift Newspaper for Veterans...
Item # 599172
January 01, 1952
A Major-city newspaper,

dated 1950-1953, from during the Korean War... with Korean War related front page news...


Presented within a Deluxe Gift Portfolio!
* Makes a sensational gift for Korean War Vets!


* Graphic and displayable headlines...

* Certificate of Authenticity and Attractive Display Portfolio Included!

* Provides a great opportunity to show honor to those who protected our nation's interests during the Korean War conflict!

An Authentic Korean War Era issue...

A newspaper The Korean War Era, 1950-1953, from various titles. A complete and original issue from the heart of the Korean War, with front page news coverage of the war (war headlines). Each issue varies, but will be similar in look and condition to the one shown in the image, but actual dates will vary. All issues are complete and in very good condition.
The issue is presented within an attractive black buffalo grain portfolio with a decorative mahogany left spine. It includes the Timothy Hughes Rare & Early Newspapers logo stamped in gold leaf on the front cover and is constructed using acid-free archival quality materials. The newspaper is placed within an inner transparent sleeve for protection and display. Makes a great presentation for that extra special gift!

A complete newspaper measuring about 18 by 24 inches and is in great condition!

The image shown is representative of the overall look and condition of what you will receive. Actual titles and dates will vary from within the Korean War era.



When An Extra-Special Gift Is Needed!





Background (

Korean War. [2007, April 24]. In Wikipedia, The Free Encyclopedia. Retrieved 18:51, April 24, 2007 ):


The Korean War, occurring between June 25, 1950, and a cease-fire on July 27, 1953, was a war fought in Korea that was divided by the post-World War IISoviet and American occupation zones, with large-scale participation by other countries. The war began with the invasion of capitalist South Korea by forces in Communist North Korea in 1950 and ended as a stalemate between the sides in 1953.
The principal support on the side of the North was China, with limited assistance by Sovietcombat advisors, military pilots, and weapons. South Korea was supported by United Nations (U.N.) forces, principally from the United States, although many other nations also contributed personnel. When the conflict began, North and South Korea existed as provisional governments competing for control over the Korean peninsula after the Division of Korea.
In South Korea, the war is often called 625, from the date of the start of the conflict or, more formally, Han-guk Jeonjaeng (literally Korean War). In North Korea, it is formally called the Fatherland Liberation War. In the United States, the conflict was officially termed a police action the Korean Conflict rather than a war, largely in order to avoid the necessity of a declaration of war by the U.S. Congress. The war is sometimes referred to outside Korea as The Forgotten War because it is a major conflict of the 20th century that garners far less attention than World War II, which preceded it, and the controversial Viet Nam War, which succeeded it. In China, the conflict was known as the War to Resist America and Aid Korea, but is today commonly called the Korean War;, Chaoxian Zhanzheng - source: http://english.people.com.cn/english/200010/26/eng20001026_53620.html)
Category: The 20th Century
Available Now
$60.00

Add to Cart