Home
> Virgil Earp shot in the street at Tombstone...
Click image to enlarge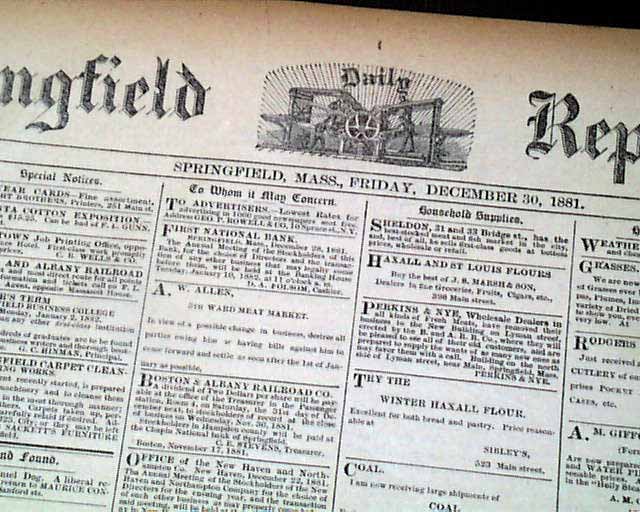 Hide image list »
Virgil Earp shot in the street at Tombstone...
Item # 560779
Currently Unavailable. Contact us if you would like to be placed on a want list or to be notified if a similar item is available.
December 30, 1881
SPRINGFIELD DAILY REPUBLICAN, Springfield, Mass., December 30, 1881

* Virgil Earp assassination attempt
* Tombstone Arizona AZ
* Wyatt Earp brother

Page 5 news "From The West" includes a report: "A United States Marshall Shot". The report reads:

* Deputy...Marshal Earp was fired on while crossing Fifth street in Tombstone, Ariz., Wednesday night by three men, armed with shotguns, who escaped in the darkness. Nineteen shots hit Earp....The assault is undoubtedly the outgrowth of a recent fight with cowboys in which Earp was engaged. The gang have since threatened the lives of Earp and his supporters, and the citizen are greatly excited

Other news of the day. Browned & pulpish at the margins causing some chipping, flaking & a few tears. Must be handled with care. 8 pages.

wikipedia notes: In the late evening of December 28, 1881, as Virgil was walking from the Oriental Saloon to his room at the Cosmopolitan Hotel (where he was staying for protection from threats), he was ambushed on Allen Street. The assailant(s) were never positively identified, but were usually assumed to be family or confederates of the men who died at the O.K. Corral shootout. Ike Clanton's hat was found at the assassin's nest, but Clanton was later given an alibi by friends. The other main suspects were Phin Clanton and Pony Diehl.

The assailant(s) fired from the second story of a building across Allen street, an office which was empty due to construction. Reports of five or six shotgun blasts were later given, and upwards of twenty buckshot pellets penetrated the Crystal Palace Saloon and the Eagle Brewery behind Virgil's position, breaking windows and narrowly missing patrons. About the same number of buckshot pellets hit Virgil, though he did not fall and was hit primarily in the back and his left arm. His injured arm would be permanently crippled as a result of the surgical removal of five and-a-half inches of his shattered humerus during the immediate treatment of the wound. While being examined by his doctors, the severely wounded Virgil managed to tell his wife, "Nevermind, I've got one arm left to hug you with." On learning of Virgil's wounds, which he initially thought were fatal, territorial U.S. Marshal Crawley P. Dake gave Virgil's Deputy U.S. Marshal position to Wyatt.

On March 20, 1882, two days after Virgil's younger brother Morgan Earp was killed in another ambush by unknown assailants, the still-recovering Virgil and his wife Allie left Tombstone to stay with Virgil's parents in Colton, California. Virgil left Tombstone the day after Morgan's body was sent to Colton with brother James Earp. Virgil was escorted for protection by twenty men to Contention, Arizona Territory, near the railhead in Benson. After five remaining bodyguards had stabled their horses in Contention, Virgil and Alle and their guards drove a wagon to Benson and boarded the train to Tucson.

Wyatt Earp and Warren Earp, Doc Holliday, Sherman McMasters, and Turkey Creek Jack Johnson were the five remaining bodyguards. Virgil had spent January and February in bed, and had just been starting to get out on the street in Tombstone, the week before Morgan's killing. He would later state that he had to be carried up the steps, when the party got to the train. His wife Allie had to wear his pistol belt during the journey, so the weapon would be available to Virgil if he needed it.

After nightfall, as Virgil's train was pulling out of Tucson on its way to California, Virgil's bodyguards killed Frank Stilwell on the tracks near the train station. While all were later indicted for the shooting, none were brought to trial, having fled the territory. Wyatt much later in his life said Stilwell and Ike Clanton had been waiting near the train to kill Virgil. Clanton admitted he and Stilwell had known Virgil and the rest had been coming to Tucson, but would be quoted as saying he thought they were coming to try to kill him along with Stilwell. Why Stilwell would go to the train yard knowing this, was not explained by Ike.
Category: Post-Civil War