Home
> Bonus Army in 1932....
Click image to enlarge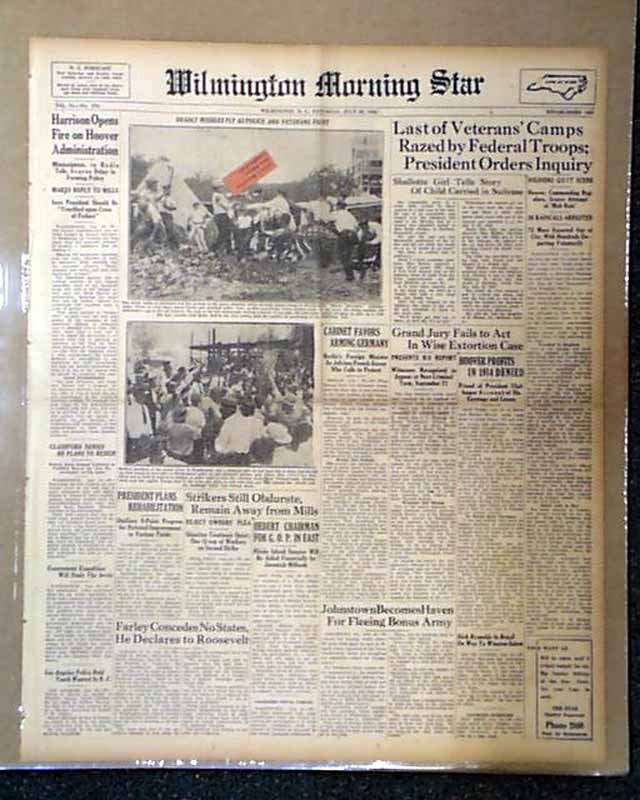 Hide image list »
Bonus Army in 1932....
Item # 549589
July 30, 1932
WILMINGTON MORNING STAR, North Carolina, July 30, 1932.

* Bonus Army - Bonus March
* President Herbert Hoover

The front page of this issue has a subheader saying "Johnstown Becomes Haven for Fleeing Bonus Army" and another saying "Harrison Opens Fire on Hoover Administration."
Other news of the day throuhgout. Library label within the photo. Usual browning, otherwise good.

source: wikipedia: The Bonus Army or Bonus March or Bonus Expeditionary Force was an assemblage of about 31,000 World War I veterans, accompanied by their families and other affiliated groups, who demonstrated in Washington, DC, during the spring and summer of 1932. The marchers were seeking immediate cash payment of Service Certificates granted eight years previously by the Adjusted Service Certificate Law of 1924. Each Service Certificate issued to a qualified soldier bore a face value equal to the soldier's promised payment plus interest. The sticking point was that the certificates, similar to bonds, were set to mature a full 20 years from the date of their original issue. Thus, under existing law, the certificates could not be redeemed until 1945.
The Bonus Army veterans were led by Walter W. Waters, a former Army sergeant, and were encouraged in their demand for immediate monetary payment by an appearance from retired Marine Corps Major General Smedley Butler, one of the most popular military figures of the time.
The Bonus Army massed at the United States Capitol on June 17 as the U.S. Senate voted on the Patman Bonus Bill, which would have moved forward the date when World War I veterans received a cash bonus. Most of the Bonus Army camped in a Hooverville on the Anacostia Flats, then a swampy, muddy area across the Anacostia River from the federal core of Washington. The protesters had hoped that they could convince Congress to make payments that had been granted to veterans immediately, which would have provided relief for the marchers who were unemployed due to the Depression. The bill had passed the House of Representatives on June 15 but was blocked in the Senate.
After the defeat of the bill, Congress appropriated funds to pay for the marchers' return home, which some marchers accepted. On July 28, Washington police attempted to remove some remaining Bonus Army protesters from a federal construction site. After police fatally shot two veterans, the protesters assaulted the police with blunt weapons, wounding several of them. After the police retreated, the District of Columbia commissioners informed President Herbert Hoover that they could no longer maintain the peace, whereupon Hoover ordered federal troops to remove the marchers from the general area.
Category: The 20th Century
Available Now
$33.00

Add to Cart