Click image to enlarge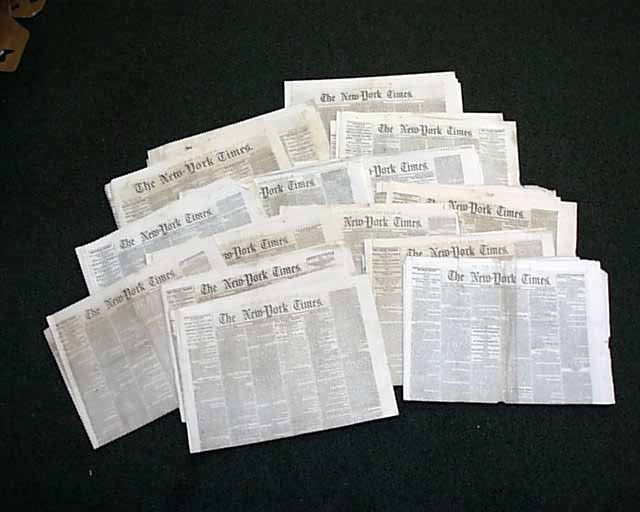 Show image list »
Group lot on the Daniel Sickles murder case... First use of the "insanity" plea...
Item # 221318
March 02, 1859
Here is a collection of
fifteen issues (15)
 of
THE NEW YORK
TIMES newspaper, all different dates from March 2 thru April 25, 1859 and each with front page coverage of: "The Sickles Tragedy", being the trial of Congressman Daniel Sickles for the murder of Philip Barton Key, son of Francis Scott Key. It created a national sensation because of the lurid details, as Sickles suspected Key of having an affair with his wife, and when caught persuing her he shot him at point blank range shouting,
"You must die! You must die!"
.
Sickles' defense ultimately was that he could not be held responsible because he was driven insane by the knowledge his wife was sleeping with Phillip Key. This was the first use of the "insanity plea" for a murder case.
Each issue is complete in 8 pgs. with extensive text which begins in the top half of the front page of each issue. The March 2 issue has a wear hold at the very center & near the top, otherwise the other issues are in nice condition with some expected foxing. Each issue was never bound nor trimmed, as sold on the street.
A great opportunity for a wealth of content on this famous trial, in this very famous newspaper, whether for resale or a personal collection.
source: wikipedia:
Sickles' career was replete with personal scandals. He was censured by the New York State Assembly for escorting a known prostitute, Fanny White, into its chambers. He also reportedly took her to England with him, leaving his pregnant wife at home, and presented White to
Queen Victoria
, using as her alias the surname of a New York political opponent.
[1]
In 1859, in
Lafayette Park
, across the street from the
White House
, Sickles shot and killed
Philip Barton Key
, son of
Francis Scott Key
and
U.S. Attorney
for the
District of Columbia
, whom Sickles had discovered was having a blatantly public affair with his young wife, Teresa.
[2]
He was tried on a charge of
murder
, but was acquitted after a sensational trial involving the first use of
temporary insanity
as a legal defense in U.S. history. (His defense attorney was
Edwin M. Stanton
, later to become
Secretary of War
.) Sickles "withdrew" briefly from public life due to the notoriety of the trial, although he did not resign his congressional seat. The public was more hostile to Sickles' reconciliation with his wife after the trial than to the murder and his unorthodox acquittal.
Category: Pre-Civil War