Click image to enlarge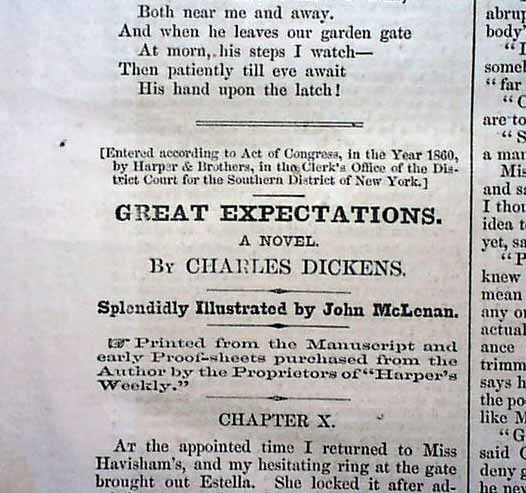 Show image list »
"Great Expectations" Collection II...
Item # 206665
January 05, 1861
HARPER'S WEEKLY, New York, January 5, 1861 through February 9, 1861. This is a six-issue set (part 2) of Harper's Weekly containing the Charles Dickens "Great Expectations" in serialization format. The set provides more than a 10% discount over purchasing the issues individually.

This set would look great displayed in one of our 17 inch by 14 inch display cases which can be viewed at www.rarenewspapers.com/folders.aspx (or by returning to the home page and selecting "storage and display options".

The individual issues are described as:

HARPER'S WEEKLY, Jan. 5, 1861 Full ftpg. is: 'The Georgia Delegation in Congress' showing 10 men. This ftpg., plus the doublepg. centerfold: 'Seeing the Old Year Out' are by Winslow Homer. Fullpg: 'New Year's Eve in the Country'. This issue also contains a serialized portion of "Great Expectations" by Charles Dickens. In addition, the 2nd installment of "Dickens's Christmas Story - A MESSAGE FROM THE SEA" is also present, taking nearly 7 pages of text.

HARPER'S WEEKLY, Jan. 12, 1861 Much of ftpg. taken up with an illus. of 'Maj. Anderson, Commanding At Ft. Sumter' with a bio. Dramatic fullpg: 'The Battle of New Orleans, Fought Jan. 8, 1815' & 'Sketches of Ft. Moultrie' halfpg: 'Occupation of Castle Pickney by the Charleston Militia' 'Entry of Anderson's Command into Ft. Sumter on Christmas Night'.

HARPER'S WEEKLY, Jan. 19, 1861 halfpg: 'Ft. Johnson, Opposite Ft. Sumter' & 'Map Showing the Forts, Islands, Etc. of the Harbor of Charleston' Fine fullpg: 'U.S. Sloop Of War 'Brooklyn''.

HARPER'S WEEKLY, Jan. 26, 1861 Ftpg. shows: 'The Prayer at Sumter'. Dramatic fullpg: 'Firing on the 'Star of the West' from Morris Is.' Two more quarter-pg. illus. of Ft. Moultrie. Fullpg. showing: 'Ft. Sumter, Seen from the Rear' plus a fullpg. of the cannons inside Ft. Sumter'. Very fine fullpg. view of 'The City of Charleston, S.C.' would be very nice for display.

HARPER'S WEEKLY Feb. 2, 1861 The full front page shows "The Seceding Mississippi Delegation in Congress" drawn by Winslow Homer, showing among others Senator Jefferson Davis. Nearly halfpg: "Sea Battery, Fort Monroe, Old Point Comfort, Va". Dramatic dblpgctrfld: "Dream of a Secessionist--Washington and Valley Forge". Two scenes of "The Brooklyn Academy of Music". Small print of D.F. Jamieson".

HARPER'S

WEEKLY, Feb. 9, 1861 Great full ftpg. illus: 'The Seceding Alabama Delegation In Congress' shows all 9 men. Fine halfpg. illus: 'The City Of Montgomery, Ala.' and another great view of 'The City of Vicksburg, Miss.' A very significant issue.
Category: Harper's Weekly
Available Now
$332.00

Add to Cart