Search Within Results:
Excluding Text:
Min price:
$

—
Max price:
$
Slavery & Abolition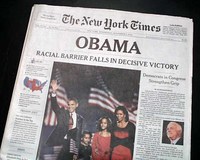 November 05, 2008
(2) NEW YORK TIMES, Nov. 5, 2008 and Jan. 21, 2009 A great
pair of issues
reporting both the election and inauguration of the first African-American president to occupy the White House.
The banner headline of the 5th is a simple: "
OBAMA
" beneath which is: "
Racial Barrier Falls In Decisive Victory
". The banner headline of the 21st announces: "
OBAMA TAKES OATH, A
...
See More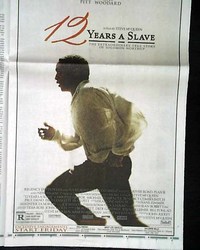 October 13, 2013
LOS ANGELES TIMES, Oct. 13, 2013 (Calendar Section)
* Pre-premiere ad for "12 Years a Slave"
* Steve McQueen - Chiwetel Ejiofor & Michael Fassbender
* Best Picture, Director, Foreign Actor and Supporting Actor, etc.
Page D7 has the best full-page ad for
"12 Years a Slave"
from the leading newspaper of the entertainment industry - the Hollywood area's prime publi...
See More
If you are searching for a newspaper from a specific date, please note that we have a vast selection available for purchase by using the date picker on our
gifts and birthday newspapers
page.