Click image to enlarge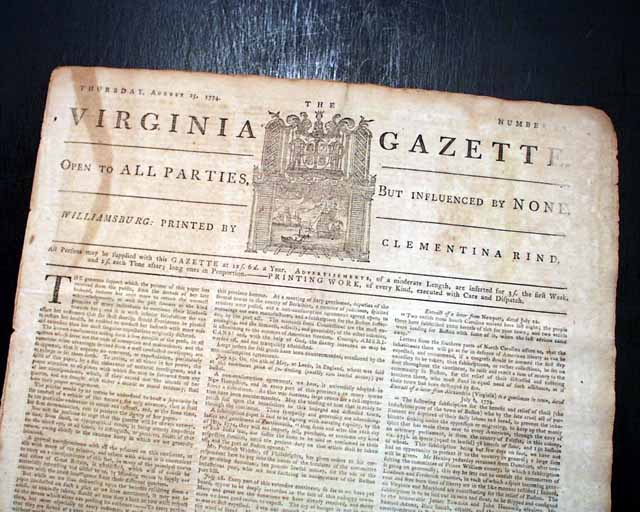 Show image list »
The Non-consumption agreements...
A rare Virginia Gazette, by a woman publisher...
Item # 657157
August 25, 1774
THE VIRGINIA GAZETTE, Williamsburg, August 25, 1774

* Very rare Colonial Virginia title
* 18th century Woman publisher

This was one of three separate newspapers of this title printed in Williamsburg during the early period of the Revolutionary War.
Of very special note is this newspaper was: "Printed By Clementina Rind" as noted in the masthead, she being one of just a few 18th century female newspaper publishers. As an additional treat the front page begins with a letter signed in type by her: Clementina Rind, concerning the operation of this newspaper.
She would die the following month, so issues with her imprint are both rare & desired.
The ftpg. also has an interesting letter from a woman concerning the potential for war, including: "Though I am very sensible that matters of politics belong more to men than women, yet I cannot help sometimes indulging serious thoughts on the present alarming situation of public affairs...while the union of the colonies & their deep rooted love of liberty convince me that they will not tamely surrender their rights, nor, without a struggle consent to hold their lives & property by the precarious tenure of the will of others...dreadful as the calamities of war may be...the horrors of slavery are still more dreadful...".
The ftpg. has other reports concerning the strained relationship between England & the colonies, including the "non-consumption agreement". One bit notes in part: "...accounts from Connecticut are the most encouraging...of the other colonies, is astonishing to the enemies of American freedom. Courage, AMERICANS! and, with the help of God, the slavery intended us may be warded off & our tranquility established."
Other good front page items as well.
Page 2 has a nice letter from the Committee of Boston to the Committee of Baltimore concernign their thanks for the show of support from both Maryland & Virginia in the cause of freedom, Boston suffering more than the other colonial cities.
Page 2 also has a letter concerning a proclamation by General Gage. There is also a "Petition of Several Natives of America" which relate to the sacnctions by Parliament on America, including mention of at least one of the Intolerable Acts. This Petition takes two-thirds of a column.
A page 3 report from "Boston" begins: "More than sixty days have expired since Boston, by a late edict of the british parliament, has been besieged by a British fleet and army & its trade annihilated..." with more, ending with: "...What further cruelties we are to suffer we know not...in this way to be brought to the feet of Lord North, with the full surrender of their inestimable rights and liberties, time only can determine."
Page 3 also has a nice item from Manchester having: "Yesterday, in this town, came on the trial of Lord N---th, before a court of the Sons of Liberty on suspicion of his having betrayed his trust & endeavoured to enslave his majesty's subjects in America...was unanimously condemned & sentenced to ride on an ass through the streets...whose body was tarred and feathered...from thence to the gallows, there to be hanged & burnt, which was accordingly done..." with more.
Then a report from Norfolk which reports that at a meeting of the town: "Unanimously Resolved, that the teas now on board trhe brigantine Mary and Jane, & consigned to Neil Jamieson...being subject to the payment of duties imposed by an act of the British parliament, ought to be sent back & not suffered to be landed...".
Complete in four pages, untrimmed margins, handsome engraving in the masthead, nice condition.
Category: American