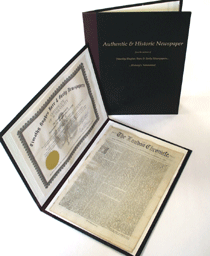 The attractive black buffalo-grain vinyl portfolio (with decorative mahogany left spine) includes the Timothy Hughes Rare & Early Newspapers logo stamped in gold leaf on the front cover and is constructed using acid-free archival quality materials. The newspaper is placed within an inner transparent *sleeve for protection and display. Makes a great presentation for that extra special gift!
*

Although rare, some issues are either too wide or too thick to fit safely within the portfolio.

When this occurs, we may either place (only) the front/key section within the portfolio and the remainder of the issue within an archival folder, or, the clear sleeve may be modified to only be sealed on the bottom and right edges to allow for easier/safe removal of the newspaper. If you would prefer for this to not be done, please include a note in the comment field at checkout stating so.
Single-issue storage/display for all sizes of newspapers...
Note: The Certificate of Authenticity shown on the left side is sold separately. If one is purchased, the buyer may either affix this to the inside cover of the portfolio with double-stick tape (as shown) or simply place it into the pocket along with the issue.
13 x 9 3/4 inch Portfolio ...
$20.00
17 x 12 3/4 inch Portfolio ...
$26.00
24 1/2 x 18 1/2 inch Portfolio ...
$32.00