Home
> Jefferson Davis rallies the troops...
Click image to enlarge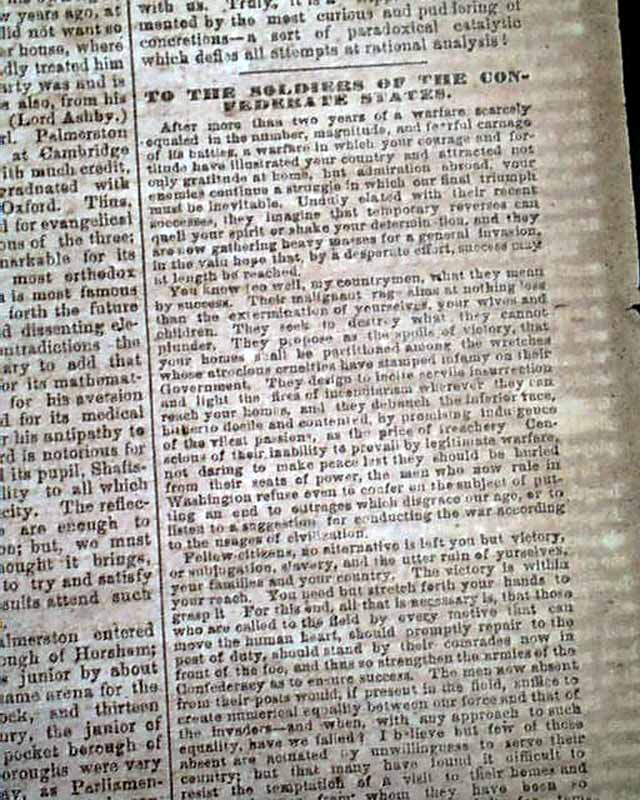 Show image list »
Jefferson Davis rallies the troops...
Item # 637930
August 15, 1863
THE MEMPHIS DAILY APPEAL, Atlanta, Georgia, August 15, 1863

* Very rare Confederate title
* Publisher on the run

If the title and city of publication seem to be in conflict, they are not. This newspaper had a fascinating history during the Civil War. Memphis was a Confederate stronghold up through the Battle of Memphis on June 6, 1862, at which time the Yankees moved in and it became a Yankee city. Being a strong voice for the Confederacy, the "Memphis Appeal" newspaper would not continue under Yankee control.
As Wikipedia notes: "...On June 6, 1862, the presses and plates were loaded into a boxcar and moved to Grenada, Mississippi, where it published for some time. The Appeal later journeyed to Jackson, Mississippi, Meridian, Mississippi, Atlanta, Georgia, and finally Montgomery, Alabama, where the plates were destroyed on April 6, 1865, only days before the Confederate surrender, halting publication of what had been one of the major papers serving the Southern cause." So this one newspaper published in six different Confederate cities during the Civil War.
Much front page war coverage with items headed: "Gen. Lee's Army", "The War in Virginia", "Negroes Taken in Arms", "From the North--Affairs at Vicksburg--From the Army of the Potomac", "Singular Story of Gen. Price at Missouri", "The Recognition Question in the British Parliament" and more. Plus perhaps the best item on the front page is an address "To the Soldiers of the Confederate States" which is signed in type by their president: Jefferson Davis in which he attempts to rally the troops.
The photos show the full text, but a portion includes: "...Fellow citizens, no alternative is left you but victory, or subjugation, slavery and the utter ruin of yourselves, your families & your country. The victory is within your reach. You need but stretch forth your hands to grasp it..." with much more. This is followed by "Wounded Confederate Prisoners" including "Wounded Confederates in College Building at Gettysburg".
The back page has much on the war also with: "Conscription--Another Suggestion" "Letter From Mobile", "Letter From Richmond", "From the Army of Tennessee", "To All Loyal Citizens of
Fulton County, Georgia", "Preparations to Attack Fort Sumter", "Intelligence from the North", "Letter From Morton, Mississippi" and more.
Complete as a single sheet newspaper, is irregular at the spine margin causes some minor loss by to advertisements only, has a small worm hole at the very center, as well as various foxing and some discrete archival mends near the margins.
A very significant issue and terrific to have this content on the front page, and in a Confederate "Memphis" newspaper printed in Atlanta.
Category: Confederate