Home
> "Chits" for a Civil War refreshment saloon...
Click image to enlarge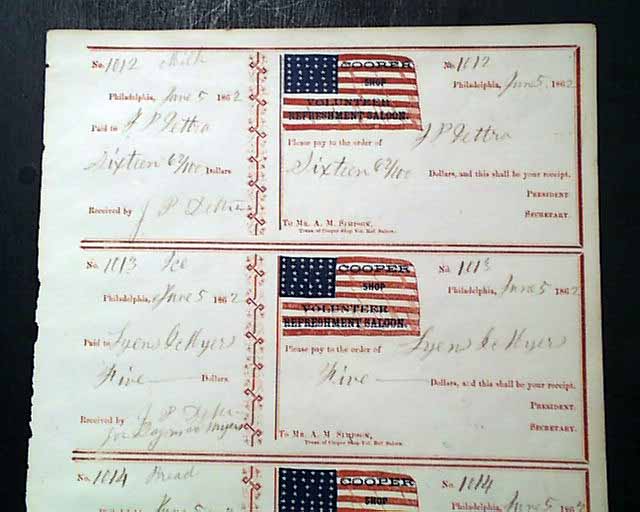 Show image list »
"Chits" for a Civil War refreshment saloon...
Item # 637776
June 5, 1862
Uncut sheet of four partly printed sutler vouchers, June 5, 1862, removed from folio. Ornate red, white & blue receipts with imprinted: "Cooper Shop Volunteer Refreshment Salon" over unfurled U.S. 34 star flag. Portions handwritten with notations including milk, ice, bread and beef, each dated June 5, 1862, with signatures (see).
The Cooper Shop Volunteer Refreshment Saloon opened in 1861 in Philadelphia to serve soldiers moving through the city on their way to & from the front. The saloon was directed by a committee & sustained by volunteer donations. In the saloons soldiers were provided meals, hospital care, and facilities for washing, sleeping, and writing. Several other "refreshment saloons" would open soon after.
A single sheet, blank on the reverse, 8 1/4 by 13 inches, nice condition with bright inks and readable handwriting.
Category: Documents & Broadsides