Home
>
Back to Search Results
> Exceedingly rare title celebrating the Prince of Orange in London... Arrival of the Princess of Orange...
Click image to enlarge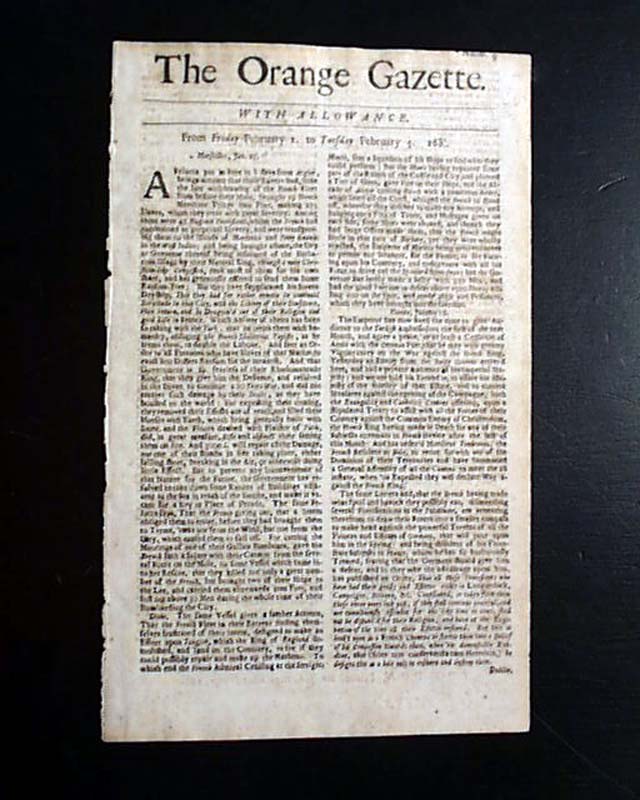 Show image list »
Exceedingly rare title celebrating the Prince of Orange in London... Arrival of the Princess of Orange...
Item # 629440
February 5, 1689
THE ORANGE GAZETTE, London, February 5, 1688/9 (issue #9 of 18)

* An exceedingly rare title

An exceedingly rare newspaper which lasted but 18 issues about which very little is known. Crane & Kaye notes only two institutions have any issues of this title, and neither have all 18.
This newspaper logically was created in celebration of the arrival of the Prince of Orange to the throne, to be King William III when he would be coronated several months later. (London Gazette notes his arrival in London in its Dec. 24, 1688 issue, and his coronation in its April 15, 1689 issue) The back page has a report noting: "...the Lord Mayor's Hall...by directions of the Lord Dartmouth are charged & primed to give Fire upon the happy arrival of her Royal highness the princess of Orange, who is hourly expected from Holland." This was Mary, the daughter of the deposed King James II.
As a bit of background: "A Protestant, William participated in several wars against the powerful Catholic king of France, Louis XIV, in coalition with Protestant and Catholic powers in Europe. Many Protestants heralded him as a champion of their faith. In 1685, his Catholic father-in-law, James II, became king of England, Ireland and Scotland. James's reign was unpopular with the Protestant majority in Britain. William, supported by a group of influential British political and religious leaders, invaded England in what became known as the "Glorious Revolution". On November 5, 1688, he landed at the southern English port of Brixham. James was deposed and William and Mary became joint sovereigns in his place. They reigned together until her death on 28 December 1694 after which William ruled as sole monarch." (credit Wikipedia)
This is issue number 9. Formatted much like the "London Gazette in size and layout, single sheet, and in very nice, clean condition.
Category: The 1600's and 1700's