Home
> Pair of the Oxford and "secret" London printings of the mouthpiece of Charles I...
Click image to enlarge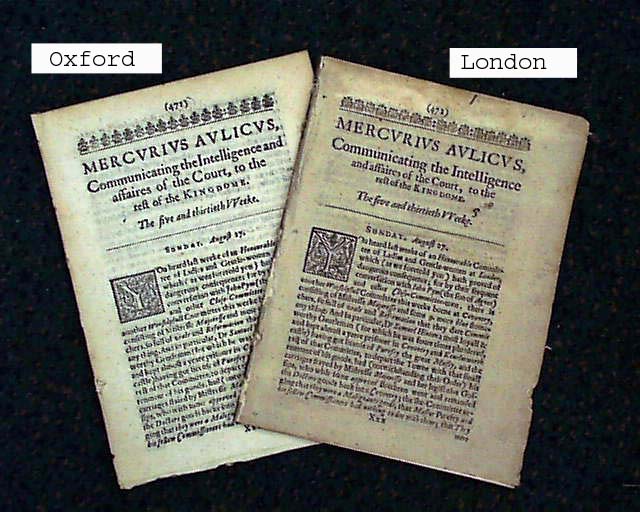 Show image list »
Pair of the Oxford and "secret" London printings of the mouthpiece of Charles I...
Item # 623896
September 3, 1643
* A top-end collectible set for the distinguished collector
* The mouthpiece for King Charles I from during the English Civil War
* Both the Oxford and the smuggled "underground" London editions of the same date

I don't believe we have ever offered a pair of issues of the rare British newsbooks, but this very special situation almost require that these two issue remain together..
Offered is a pair of issues of the MERCURIUS AULICUS newsbook, both of the same date, "The five and thirtieth Weeke" of 1643 (year not printed but is verifiable), one the "regular" Oxford edition, the other the secretly-printed and exceedingly rare London edition.
This newsbook was created because of the English Civil War with the first issue printed in January, 1643 as a means for the Royalist faction supporting King Charles I to promote their views in Parliament-held London. It was published in Oxford, the stronghold of Charles I at the time. Any person or any publication promoting the cause of Charles I would not have been welcomed in London. It was a short-lived publication which began to lose support from 1644 onward as the Royalist losses on the battlefield continued. This Oxford newsbook found it more & more difficult to obtain current news and issues became badly delayed. It finally ceased publication in 1645.
As noted in Wikipedia: "...The Mercurius Aulicus was printed in Oxford, which was at this time the Royalist capital...then smuggled into London where it was sold by local women, often at heavily inflated prices. It was also reprinted on occasion--albeit not necessarily accurately--by local sympathizers in London...".
On the rare occasion we have had the opportunity to offer an issue of the Mercurius Aulicus it has always been the Oxford edition. Not only is this is the first opportunity we have had to offer the secretly-printed London edition, but we have paired it with the Oxford edition of the same date to compare the subtle differences between them (embellishment at top of front page is different; heading type sizes are different; embellished first letter of ftpg. is different; dated headings on inside pages are different, etc.) Although I am struck but the considerable similarity between the two issues printed on different presses in different cities, put side-by-side several differences are very evident.
A very notable and rare pair of issues of a short-lived newsbook title from the English Civil War, and terrific to have both editions of the same date.
Both issues are complete in 16 pages and measure 5 1/4 by 7 inches. The Oxford edition is quite clean while the London edition is a bit toned to the front page and has minimal margin wear.
Category: The 1600's and 1700's