Home
> Crazy Horse Death...
Click image to enlarge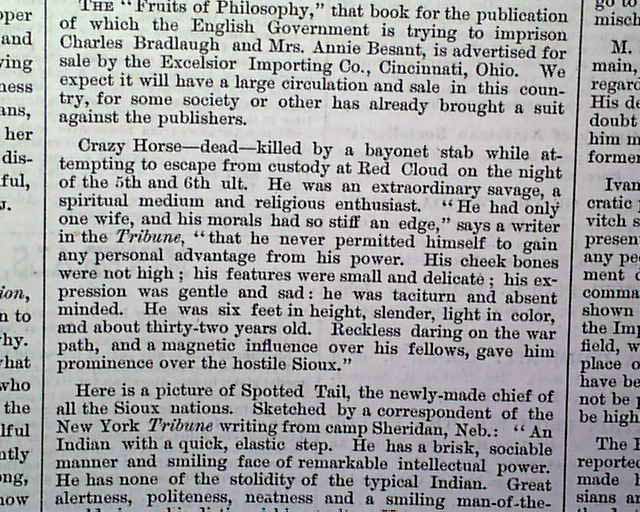 Show image list »
Crazy Horse Death...
Item # 588560
September 13, 1877
THE AMERICAN SOCIALIST, Oneida, New York, September 13, 1877

* Death of Crazy Horse in original report
* Lakota... Sioux Indians

This 8 page un-cut newspaper is in very nice condition and contains news of the day, stories and advertisements with the following featured material: article on the death of the famous Indian Chief Crazy Horse.
Historical Background: Dr. Valentine McGillycuddy, who treated Crazy Horse after he was stabbed, wrote that Crazy Horse "died about midnight." According to military records he died before midnight, making it September 5, 1877. According to the Oglala Sioux, he died after midnight, making it September 6, 1877.It is also said that he died 2 days later which would make it September 8, 1877. The monument located at the spot of his death says September 5, 1877. Each year the Oglala Sioux meet at the spot of his death on September 6.
John Gregory Bourke's memoirs of his service in the Indian wars, "On the Border with Crook"' details an entirely different account of Crazy Horse's death. Bourke's account was from a personal interview with Little Big Man, who was present at Crazy Horse's arrest and wounding. The interview took place over a year after Crazy Horse's death. Little Big Man's account is that, as Crazy Horse was being escorted to the guardhouse he suddenly pulled from under his blanket two knives, one in each hand. One knife was reportedly fashioned from the end of an army bayonet. Little Big Man, standing immediately behind Crazy Horse and not wanting the soldiers to have any excuse to kill him, seized Crazy Horse by both elbows, pulling his arms up and behind him. As Crazy Horse struggled to get free, Little Big Man abruptly lost his grip on one elbow, and Crazy Horse's released arm drove his own knife deep into his own lower back.
When Bourke asked about the popular account of the Guard bayonetting Crazy Horse, Little Big Man explained that the guard had thrust with his bayonet, but that Crazy Horse's struggles resulted in the guard's thrust missing entirely and his bayonet being lodged into the frame of the guardhouse door, where the hole it made could still be seen at the time of the interview.
Little Big Man related that, in the hours immediately following Crazy Horse's wounding, the camp Commander had suggested the story of the guard being responsible as a means of hiding Little Big Man's involvement in Crazy Horse's death, and thereby avoiding any inter-clan reprisals.
Bourke goes on to relate how he double checked on Little Big Man's account by visiting the Fort and inspecting the guardhouse door, where he reported finding a deep hole that could only have been made by a bayonet.
This account is compelling, not only in that it is from the only Native American witness to the event, but in that it is consistent with Crazy Horse's reported last words to the camp Commander wherein he absolved anyone from responsibility for his death, claiming that it was entirely his own doing. Bourke's memoirs of his personal experiences and acquaintance with the pivotal figures of the events he reports on makes him an especially credible source of information on the Indian Wars of the 1870s and 80s.
Category: Post-Civil War