Search Within Results:
Excluding Text:
Min price:
$

—
Max price:
$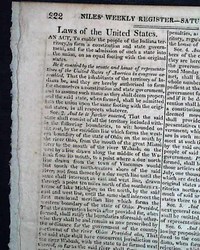 June 1, 1816
NILES' WEEKLY REGISTER, Baltimore, June 1, 1816 Perhaps the best content in this issue is an article headed: "Laws of the United States. An Act to enable the people of the Indiana Territory to form a constitution & state government & for the admission of such a state into the union..." which takes over a full pg. and is signed in type by
H. Clay
and the President, ...
See More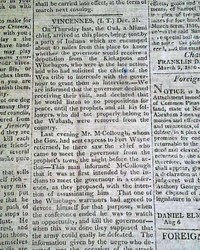 January 27, 1812
UNITED STATES' GAZETTE FOR THE COUNTRY, Philadelphia, Jan. 27, 1812
* Battle of Tippecanoe result
The bkpg. has a report concerning the Battle of Tippecanoe and the resulting relationship with the Indians in the Indiana Territory (see). Beneath this is a "Six Cents Reward" for a runaway.
Four pages, nice condition....
See More
If you are searching for a newspaper from a specific date, please note that we have a vast selection available for purchase by using the date picker on our
gifts and birthday newspapers
page.