Search Within Results:
Excluding Text:
Min price:
$

—
Max price:
$
April 5, 1781
THE INDEPENDENT CHRONICLE & THE UNIVERSAL ADVERTISER, Boston, April 5, 1781
* Rare Revolutionary War title from America
A nice feature of the masthead is a great engraving taken after one done earlier by Paul Revere, showing a patriot soldier with a sword in one hand and a scroll reading "Independence" in the other (see).
Most of the front page is taken up with an...
See More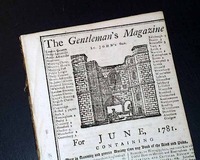 GENTLEMAN'S MAGAZINE, London, England, June, 1781 This issue is from London, dated in this significant year of the Revolutionary War. The first article is a continuation on the "Debate on the Motion of Thanks to Earl Cornwallis", mentioning:
"...the victories he had gained, like those of Phila. & Ticonderoga, served only to multiply distresses..."
with much more (see fo...
See More
If you are searching for a newspaper from a specific date, please note that we have a vast selection available for purchase by using the date picker on our
gifts and birthday newspapers
page.