Search Within Results:
Excluding Text:
Min price:
$

—
Max price:
$
Other Potential Titles...
Note: In addition to what may or may not be shown below, issues may be available for this date which have yet to be listed on our website.
View Potential Titles for 01/01/1500

Due to the size of our inventory, it is possible we still may have what you are looking for. Please call (570-326-1045) or send your request to .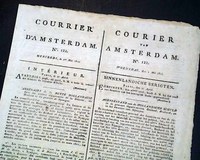 May 1, 1811
COURRIER D'AMSTERDAM or the COURIER VAN AMSTERDAM, May 1, 1811 (No. 122)
* Exceedingly rare Napoleon Bonaparte occupation newspaper
This was a daily newspaper published in Amsterdam during the French occupation of Holland. It is bilingual: half printed in French and half in Dutch. Two mastheads as well, one in each language.
In 1810 Napoleon Bonaparte annexed Holland to his ...
See More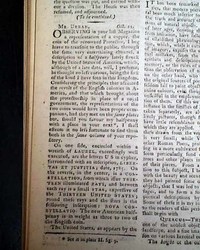 THE GENTLEMAN'S MAGAZINE, London, October, 1786
* The Nova Constellatio coin print
* Made for circulation in the American colonies
The most interesting item in this issue is the foldout plate which contains--among other prints--an image of the "Nova Constellatio" coin used in the colonies (see). The print shows both the obverse & reverse & has a date of 1785.
Th...
See More
If you are searching for a newspaper from a specific date, please note that we have a vast selection available for purchase by using the date picker on our
gifts and birthday newspapers
page.