Search Within Results:
Excluding Text:
Min price:
$

—
Max price:
$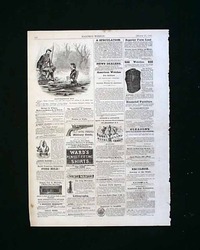 March 21, 1863
FRANK LESLIE'S ILLUSTRATED NEWS dated March 21, 1861 (print only)
This is a single-page print. The page contains several Civil War era ads and a cartoon entitled "Rappahannock Mud". See photos for details.
The print size is approximately 11.5 x 16 inches.
June 29, 1861
FRANK LESLIE'S ILLUSTRATED NEWS dated June 29, 1861 (print only)
This is a single-page print. The print contains two engravings entitled
"The Village of Falls Church, VA - Arrival of the Second U. S. Cavalry, Company B, Lieutenant Tompkins, on Wednesday Morning, June 19th
- from a Sketch by our Special Artist accompanying Major-General D'Dowell's Command