Search Within Results:
Excluding Text:
Min price:
$

—
Max price:
$
Are you looking for a Birthday/Gift issue?
We noticed that you searched for a date in the Twentieth Century. We offer birthday issues for many of these dates:
Purchase a birthday/gift issue
Other Potential Titles...
Note: In addition to what may or may not be shown below, issues may be available for this date which have yet to be listed on our website.
View Potential Titles for 08/01/1916

Due to the size of our inventory, it is possible we still may have what you are looking for. Please call (570-326-1045) or send your request to .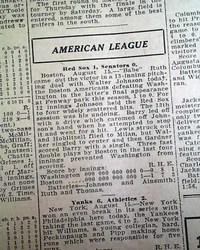 August 16, 1916
THE ATLANTA CONSTITUTION, August 16, 1916
* Babe Ruth vs. Walter Johnson pitching duel
* Early coverage for Ruth, before he was a Yankee
The sports section (page 10) has a brief yet very historic report under "American League" "Red Sox 1, Senators 0" with the text beginning:
"'Babe' Ruth came out the victor in a 13 inning pithcing duel..."
. (see) This w...
See More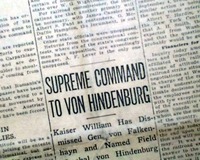 August 30, 1916
THE ATLANTA CONSTITUTION, Atlanta, Georgia, August 30, 1916
* Paul von Hindenburg
* German Chief of Staff
This 14 page newspaper has one column headlines on the front page:
"SUPREME COMMAND TO VON HINDENBURG"
"Kaiser William Has Dismissed Gen. von Falkenhayn and Named Field Marshal von Hindenburg Chief of Staff"
. 1st report coverage of Paul von Hindenburg being named th...
See More
If you are searching for a newspaper from a specific date, please note that we have a vast selection available for purchase by using the date picker on our
gifts and birthday newspapers
page.