Search Within Results:
Excluding Text:
Min price:
$

—
Max price:
$
Other Potential Titles...
Note: In addition to what may or may not be shown below, issues may be available for this date which have yet to be listed on our website.
View Potential Titles for 09/01/1817

Due to the size of our inventory, it is possible we still may have what you are looking for. Please call (570-326-1045) or send your request to .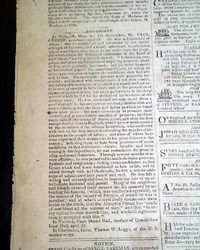 September 17, 1817
COLUMBIAN CENTINEL, Sept. 17, 1817 The back page contains the detailed obituary of
Paul Cuffee
, which states in part:
"He was a descendant of Africa [African Ashanti]: But combated and overcame by the native strength of mind, and a steady adherence to principles which would have done honor to any white man, the prejudices with which the ill-starred inhabitants of the Land of his Fathers
...
See More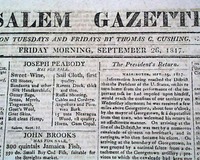 September 26, 1817
SALEM GAZETTE, Salem, Massachusetts, Sept. 26, 1817 On the front page under "Presidents Return" are details about the reception for President Monroe upon his return to Washington, including the text of a "verbal salutation" from a military officer, plus an address from the mayor, and the Presidents reply, signed in type:
James Monroe
. In good, untrimmed condition....
See More
If you are searching for a newspaper from a specific date, please note that we have a vast selection available for purchase by using the date picker on our
gifts and birthday newspapers
page.