Search Within Results:
Excluding Text:
Min price:
$

—
Max price:
$
Other Potential Titles...
Note: In addition to what may or may not be shown below, issues may be available for this date which have yet to be listed on our website.
View Potential Titles for 10/01/1768

Due to the size of our inventory, it is possible we still may have what you are looking for. Please call (570-326-1045) or send your request to .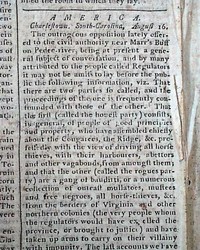 October 10, 1768
THE BOSTON CHRONICLE, Oct. 10, 1768
* Pre Revolutionary War tensions
A somewhat short-lived colonial newspaper by a publisher with Loyalist leanings. The entire front page is taken up with: "Description of the Anaconda, a monstrous species of Serpent...". Page 3 has: "A Letter from Mr. Voltaire..." signed by him in type.
Another page has a report from Charles...
See More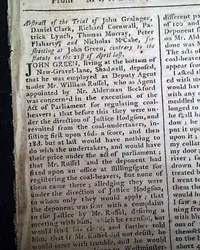 October 24, 1768
THE BOSTON CHRONICLE, Oct. 24, 1768
* Pro-British American publication
* Boston is causing trouble
A nice newspaper from colonial Boston, the hotbed of activity raging against the hated policies of Parliament towards the American colonies. This city & its environs saw much action against the Stamp Act, and would soon be the focus of the Boston Tea Party, the Boston Massacre, and the out...
See More
If you are searching for a newspaper from a specific date, please note that we have a vast selection available for purchase by using the date picker on our
gifts and birthday newspapers
page.