Search Within Results:
Excluding Text:
Min price:
$

—
Max price:
$
Other Potential Titles...
Note: In addition to what may or may not be shown below, issues may be available for this date which have yet to be listed on our website.
View Potential Titles for 04/01/1768

Due to the size of our inventory, it is possible we still may have what you are looking for. Please call (570-326-1045) or send your request to .
THE GENTLEMAN'S MAGAZINE, London, April, 1768
* Ben Franklin letter regarding the poor
* Engraving of Pascal Paoli of Corsica
* Early fire engine
* Reports from America, including Indians
Taking nearly two pages is a letter:
"Hardheartedness to the Poor Considered"
which was written by Ben Franklin, although signed:
"Medius"
(see https://founders.archives.gov/docum...
See More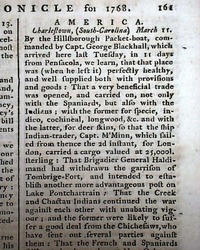 April 18, 1768
THE BOSTON CHRONICLE, April 18, 1768
* Rare Colonial Boston
* Pre Revolutionary War
* Native Americans - Indians
Inside has a column headed: "America" with reports from Charleston providing news from the Southern part of the colonies, and that:
"...Brig. General Haldimand had withdrawn the garrison of Tombrige-Fort & intended to establish another more advantageous
...
See More
If you are searching for a newspaper from a specific date, please note that we have a vast selection available for purchase by using the date picker on our
gifts and birthday newspapers
page.