Search Within Results:
Excluding Text:
Min price:
$

—
Max price:
$
Other Potential Titles...
Note: In addition to what may or may not be shown below, issues may be available for this date which have yet to be listed on our website.
View Potential Titles for 10/01/1766

Due to the size of our inventory, it is possible we still may have what you are looking for. Please call (570-326-1045) or send your request to .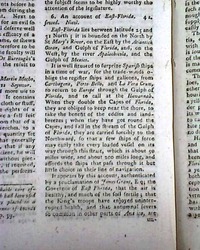 THE GENTLEMAN'S MAGAZINE, London, October, 1766 A very nice and detailed article is: "An Account of East Florida" (see), taking over a full page. Other articles include: "Laws Ill Executed with respect ot Vagabonds" "Miraculous Cure of a Consumption" "Charter Granted to the East India Company" ; much on: "Finances of this Kingdom" "L...
See More
October 4, 1766
THE LONDON CHRONICLE, London, October 4, 1766 Page five has a story about Mr. Wildman who is able to "control" bees. This is written by a gentleman who attended an event and witnessed how he was able to handle them without being stung, and hearing the nay-sayers staying how he was able to do so. Also on the same page is an article on how the application of salt to wounds made by the biti...
See More
If you are searching for a newspaper from a specific date, please note that we have a vast selection available for purchase by using the date picker on our
gifts and birthday newspapers
page.