Search Within Results:
Excluding Text:
Min price:
$

—
Max price:
$
Other Potential Titles...
Note: In addition to what may or may not be shown below, issues may be available for this date which have yet to be listed on our website.
View Potential Titles for 11/01/1765

Due to the size of our inventory, it is possible we still may have what you are looking for. Please call (570-326-1045) or send your request to .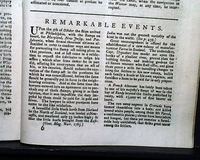 THE GENTLEMAN'S MAGAZINE, London, November, 1765 Near the back under: "Remarkable Events" is a report of ships arriving at Philadelphia:
"...with the stamps on board for Maryland, New Jersey and Pennsylvania, when several citizens assembled in order to consider ways and means for preventing the stamp act taking place in that province..."
with more (see images). Furthe...
See More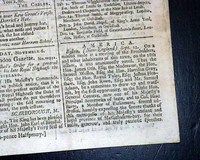 November 7, 1765
THE LONDON CHRONICLE, England, Nov. 7, 1765
* The Stamp Act crisis - riots
* Sir Francis Bernard speech
The front page has a report from Boston appointing a committee to be comprised of James Otis & Sam Adams, among others, to offer thanks for
"...his Majesty's...noble, generous & truly patriotic speeches...in favour of the Colonies, their rights & privileges...&
...
See More
If you are searching for a newspaper from a specific date, please note that we have a vast selection available for purchase by using the date picker on our
gifts and birthday newspapers
page.