Search Within Results:
Excluding Text:
Min price:
$

—
Max price:
$
Other Potential Titles...
Note: In addition to what may or may not be shown below, issues may be available for this date which have yet to be listed on our website.
View Potential Titles for 10/01/1765

Due to the size of our inventory, it is possible we still may have what you are looking for. Please call (570-326-1045) or send your request to .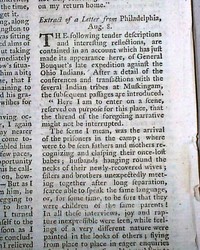 October 1, 1765
THE LONDON MAGAZINE, England, October, 1765 Perhaps the most interesting feature is the full title/contents page which has a very intricately engraved view of the skyline of London at the time, making this very decorative.
Inside has over a full page taken up with an: "Extract of a Letter from Philadelphia" on "Indian Generosity and Humanity", an uncommonly nice, complim...
See More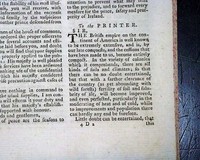 October 1, 1765
THE LONDON MAGAZINE, England, October, 1765 Over two pages are taken up with a fine and quite detailed article on America, its geography, economy, and relations with England. It begins:
"The British empire on the continent of America is well known to be extremely extensive, and is, by our late conquests, and the cessions that have been made to us, become entirely compact..."
...
See More
If you are searching for a newspaper from a specific date, please note that we have a vast selection available for purchase by using the date picker on our
gifts and birthday newspapers
page.