Search Within Results:
Excluding Text:
Min price:
$

—
Max price:
$
wine related prints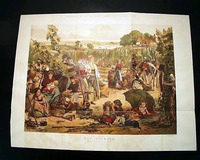 October 5, 1867
SUPPLEMENT TO THE ILLUSTRATED LONDON NEWS, England, Oct. 5, 1867 This is a terrific and quite rare full color print captioned: "
Hop Picking
". This foldout has an image measuring 16 1/4 by 21 3/4 inches, with the entire print with borders measuring 20 1/2 by 26 3/4 inches. This print is rarely available as it was typically removed from the volumes years ago, and even when found the ...
See More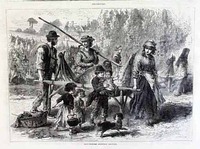 October 5, 1867
THE ILLUSTRATED LONDON NEWS, England, October 5, 1867 Two pages contain a total of four half page prints on the wine making industry, headed:
"Incidents Of Hop Gathering".
The individual prints are captioned: "Dinner Time", "Hop Pickers Shifting Ground", "Waiting to be Paid", and "Paying Hop Pickers". There is a related article on the followi...
See More
If you are searching for a newspaper from a specific date, please note that we have a vast selection available for purchase by using the date picker on our
gifts and birthday newspapers
page.