Search Within Results:
Excluding Text:
Min price:
$

—
Max price:
$
*Frank-Offer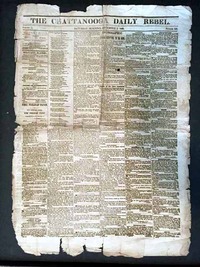 December 5, 1863
THE CHATTANOOGA DAILY REBEL, Marietta, Georgia, Dec. 5, 1863
* Very rare Confederate title
A fascinating and quite rare title of a Confederate newspaper "on the run" which went from town to town as the Yankees advanced upon them during the war. Note that this issue was printed in Marietta, Georgia (see photo) some 100 miles from Chattanooga. And terrific to have the word &quo...
See More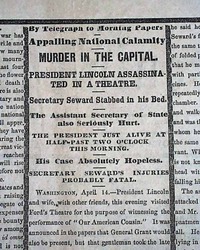 April 15, 1865
THE EVENING BULLETIN, Providence, Rhode Island, April 15, 1865
* Abraham Lincoln assassination (1st report)
* Ford's Theater - John Wilkes Booth
The top of the first two columns have the notable heads: "The Nation's Sorrow Hour" "The President Dead" "The Official Announcement" "The Assassins Identified" "Mr. W. H. Seward Reviving&qu...
See More
If you are searching for a newspaper from a specific date, please note that we have a vast selection available for purchase by using the date picker on our
gifts and birthday newspapers
page.