Search Within Results:
Excluding Text:
Min price:
$

—
Max price:
$
Catalog-273-early-pre-release-August
Catalog-273-early-pre-release-August
TRANS-CONTINENTAL -- a complete
reprint collection
of all 12 issues
of this fascinating newspaper.
The newspaper titled "Trans-Continental" was a stroke of historical genius in the mind of its editor, W. R. Steele. On May 24, 1870 over 130 passengers boarded a beautiful eight car Pullman train built under special orders of George M. Pullman specifically for this trip, the first chartere...
See More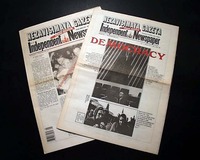 August 1, 1991
A fascinating pair of newspapers, destined to be the premier newspapers on the coup and collapse of the Soviet Union. Both double-titled: "NEZAVISIMAYA GAZETA/INDEPENDENT NEWSPAPER".
Issue #1
: Datelined Moscow & Washington, August, 1991 The Nezavismaya Gazeta defied orders & worked through the night, handing out crude newspaper copies to people on the streets, and faxing their t...
See More
If you are searching for a newspaper from a specific date, please note that we have a vast selection available for purchase by using the date picker on our
gifts and birthday newspapers
page.