Click image to enlarge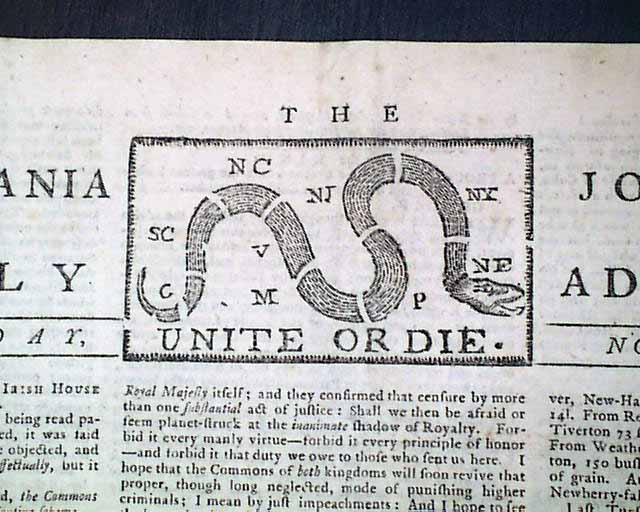 Hide image list »
Ben Franklin's famous "Unite Or Die" engraving in the masthead...
Item # 692301
November 30, 1774
THE PENNSYLVANIA JOURNAL; AND THE WEEKLY ADVERTISER, Philadelphia, November 30, 1774

* Benjamin Franklin's "Unite Or Die" cartoon

If there was one graphic which represented the spirit of the Revolutionary War it would have to be the ubiquitous segmented snake with the famous "Unite Or Die" caption. The engraving, a prominent device in the masthead of this newspaper, shows a snake cut into various pieces, each with a label of a colony with the implied message that only by each of the separate colonies uniting under a single cause could the country--the snake--hope to strike back & be successful in defeating the British.
Ben Franklin is credited with creating this device, considered the very first political cartoon when he used it in his Pennsylvania Gazette in 1754 to rally the colonies to unite during the advent of the French & Indian War. It would become a symbol of colonial freedom during the Revolutionary War. This engraving is found in most history books, but very rarely is such an edition of the Pennsylvania Journal found & offered to the collector market.
As if this terrific device was not sufficient, the front page has some great content as well most shown in the photos. One report is particularly noteworthy being a document from a meeting of the inhabitants of Boston which begins: "WHEREAS sundry regiments of his Majesty's troops are, contrary to law, & to the great annoyance & detriment of his Majesty's good subjects of this province, now stationed in the town of Boston in a time of profound peace for the avowed purposes of carrying into execution sundry acts of the British Parliament tending to enslave the people..." with much more.
Good content continues on page 3 as well with a lengthy report from Williamsburg, Virginia, and a letter to Peyton Randolph dated at Boston & signed in type: Thomas Gage. Another item notes: "General Gage hath absolute orders from the Court to prevent the meetings of the Congress, and to seize all such people as attempt to assemble." as well as: "A report prevails that General Gage is killed, and that two regiments of his troops had revolted. The idea of sending another cargo of Tea to Boston, with a military force, is most contemptibly ridiculous and is likely to serve no other end than that of making the exporters more laughed at..." with more on the tea issue. Page 3 has good content with reports from Philadelphia and Williamsburg, the later beginning: "The Virginians are very warm in the American cause...arrived a few days ago at York who had two chests of tea on board...The Committee...determined that the tea should be destroyed...".
Four pages, in very nice condition. An exceedingly rare opportunity for a most desirable, displayable, and rare newspaper.
Category: Revolutionary War
Available Now
$15,800.00

Add to Cart