Click image to enlarge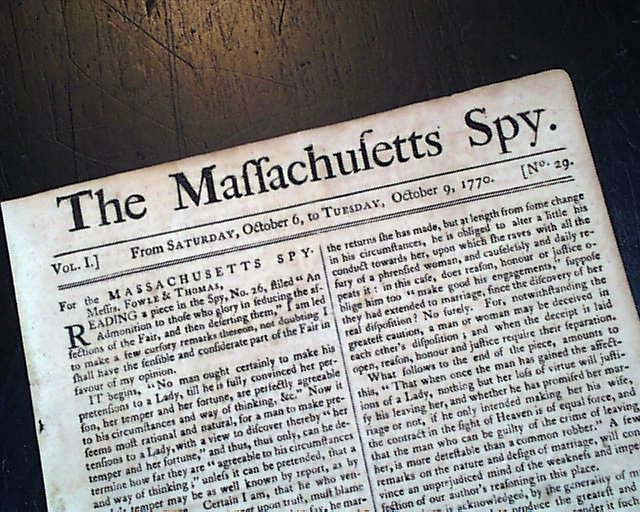 Show image list »
A great rarity: an early volume one issue of the Massacuhsetts Spy...
Item # 687192
October 09, 1770
THE MASSACHUSETTS SPY, (Boston), October 9, 1770

* Very early famous 18th century publication
* Volume 1 issue - Isaiah Thomas as publisher

This innocuous looking newspaper is arguably the most famous of all American titles of the 18th century. It began in July, 1770, this being issue number 29. It is exceedingly rare to find this title from the first year of publication.
The famed Isaiah Thomas was the publisher. Wikipedia notes that it was a heavily political paper that was constantly on the verge of being suppressed by the Royalist government from the time of its establishment in 1770 thru 1776, during the runup to the American Revolution. In 1771–1773 the Spy featured the essays of several anonymous political commentators.
The Spy soon carried radicalism to its logical conclusion. When articles from the Spy were reprinted in other papers, as the country as a whole was ready for Thomas Paine's Common Sense (1776), the newspaper had to be removed from Boston to Worcester after the April 6, 1775 issue, just before the Battles of Lexington and Concord and the subsequent siege of Boston, to prevent the arrest of the publisher and printers and the presses from being seized and destroyed by the British.
The entire front page and a bit of page 2 are taken up with a letter concerning: "An Admonition to Those who Glory in Seducing the affections of the Fair, and then deserting them". In reading it carefully it could easily pass as a thinly disguised analogy of the troubling relationship between England & the American colonies and how the one should be treated by the other.
Over half of the back page is taken up with a letter concerning the hard-fought liberties won by the country's ancestors. A few bits include: "Whenever I reflect upon the incredible hardships our forefathers endured...With what firmness & perseverance did our venerable ancestors resist the encroachments of civil and ecclesiastical tyranny!...promises of favour, and threats of punishment...I make no doubt that every true-born son of America would willingly undergo any hardship or combat any danger to preserve the precious bequest safe and inviolate to their posterity..." with more, commenting on the growing tensions with England.
The back page also mentions: "Funeral sermons were preached last Sunday in many churches in this town, on account of the death of the Rev. Mr. Whitefield." George Whitfield was an Anglican cleric and evangelist who was one of the founders of Methodism and the evangelical movement.
The full text of this issue is shown in the photos.
Complete as a single sheet issue, 7 by 9 1/2 inches. To verify completeness we checked with the American Antiquarian Society and their files (the personal collection of Isaiah Thomas himself) show this issue to be complete as a single sheet without an imprint. Very nice condition.
Category: American
Available Now
$1,875.00

Add to Cart