Click image to enlarge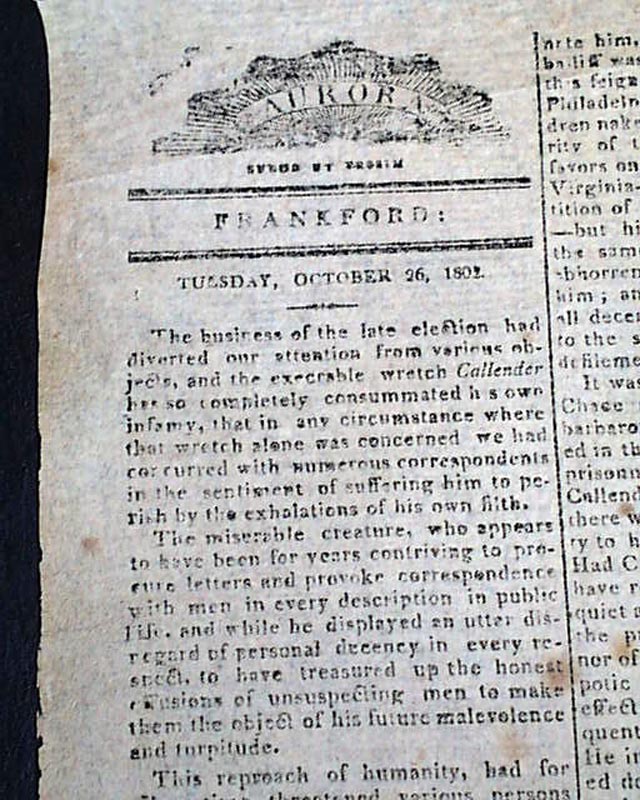 Show image list »
Terrific issue on the Jefferson/Callender situation...
Item # 685609
October 26, 1802
AURORA GENERAL ADVERTISER, Frankford, Oct. 26, 1802

* President Thomas Jefferson
* James Callender squabble

Note that this issue was published in nearby Frankford to escape the Yellow Fever epidemic in Philadelphia.
Page 2 begins with a very lengthy editorial which includes: "The business of the late election had diverted our attention from various objects, and the execrable wretch Callender has so completely consummated his own infamy, that in any circumstance where that wretch alone was concerned we had concurred with numerous correspondents in the sentiment of suffering him to perish by the exhalations of his own filth..." and even more.
A few other bits including: "...This was the grand sin. Callender had declared a thousand times that he wrote only for money--and having obtained money for all he wrote, was not content. Principle he always declared he never had, yet he complained that men of principle did not entrust him with office!...". And then further on: "...The circumstances of the parties would not admit of it. Callender had long before said of his countrymen in Richmond, who are numerous that they 'so uniformly cohabited with the black race [oblique reference to the Sally Hemings affair], that to approach them without offense to the nostrils, it was necessary to carry musk, or some other strong scent.' This delicacy of scent in Callender must give a strong idea of this new Scotch odor...".
And then much more, going into the situation on Jefferson's review of "The Prospect Before Us", and also the situation of Jefferson not giving Callender a federal position wanted, and then of Jefferson paying Callender for his time spent in jail, etc.
Simply a terrific and quite detailed report, covering a multitude of issues in the Jefferson/Callender controversy.
Four pages, very nice condition.

The content noted above requires a backdrop of knowledge on one of the more interesting figures in early American politics.
James Callender was one of America's earliest "scandalmongers". A political journalist, his writings were often controversial. He curried favor with Republican interests early on, landing a job with Benjamin Franklin Bache's newspaper, the Aurora General Advertiser. Firing darts at Federalists like Washington, Adams, and Hamilton made him good friends with Republicans like Jefferson. In fact, Jefferson called Callender "a man of genius".

He became a central figure in the press wars between the Federalist and Democratic-Republican parties. Pleased with Callender's attacks on his rivals Hamilton & Adams, Jefferson viewed him as journalistic ally, even supporting Callender financially.

But Callender's attack on President Adams had him jailed under the Sedition Act. But after Jefferson won the presidency he pardoned Callender, who then solicited employment as a postmaster which he felt was owed him by Jefferson. Jefferson denied it.
Callender then began publishing existing rumors claiming President Jefferson had children with slave Sally Hemings.
Category: Pre-Civil War
Available Now
$255.00

Add to Cart