Click image to enlarge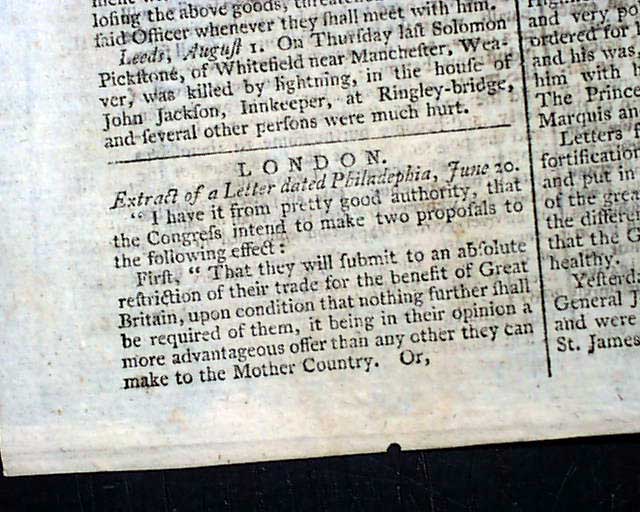 Show image list »
George Washington is commander-in-chief...
Item # 645300
August 05, 1775
THE LONDON CHRONICLE, England, Aug. 5, 1775

* George Washington becomes commander-in-chief
* Continental Army - American Revolutionary War

Page 2 has an: "Extract of a Letter dated Philadelphia, June 20" which notes that Congress intends to make two proposals: "First, that they will submit to an absolute restriction of their trade for the benefit of Great Britain upon condition that nothing further shall be required of them...Or, Second that it shall be agreed between Great Britain & the colonies that the latter shall raise her full, equal, and just proportion of revenue for the support of the whole empire in a similar manner as the assessment is upon Scotland...On this system the Colonies cannot be taxed one farthing without Great Britain paying also a like proportion...".
A bit further on is a significant report: "One of these proposals must be accepted or arms will be the alternative. Col. Washington, on his appointment to be Commander in Chief, refused any stipulated salary, saying, he would not receive one farthing more than his expences. One thousand rifle men are raised by order of the Congress...It is said that the 27th of June the Regulars from Boston Neck began firing upon the little town of Roxbury...the Regulars reconnoitered the hill, but found it too strong to risk an attack upon it. On the 26th of June last Colonel Washington and Major Gates...passed thru New York on their march to the camp before Boston..." with even more.
Towards the back is an: "Extract of a Letter dated Philadelphia" which also includes a very significant report: "However anxious the Americans are to preserve their allegiance...determined to submit to no infringement on their constitutional rights; for this reason solely they have taken arms to oppose the despotic system of an infamous Administration...making every necessary preparation to act with vigour...Col. George Washington, a delegate from Virginia...with the unanimous consent of the Congress, appointed Commander in Chief of the continental forces with a handsome salary per annum. The commission he received with pleasure, but positively refused any pay, requiring only a reimbursement of his actual expences. Colonel Ward...is second in command, and Mr. Gates...is Adjutant General..." with more. And a bit further on is: "...the Congress have ordered one thousand more marksmen, or as we call them, riflemen, to be raised..." and more. And this is followed by a letter from Charleston, South Carolina which includes: "I mentioned to you in my last the effects the engagement that happened in New England had upon the people in New York...We all most earnestly wish for peace & reconciliation between Great Britain & America upon just, honourable, and constitutional principles...If any on your side of the water imagine America will grow tired & give up the matter they are greatly mistaken..." with quite a bit more. And there is more content on the back page as well.
A great wealth of America-related content in this issue. Complete in 8 pages, 8 1/2 by 11 1/2 inches, in very good condition.
Category: British