Click image to enlarge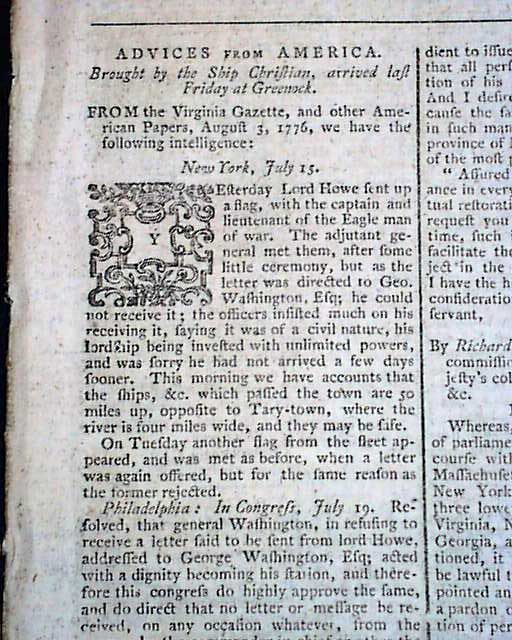 Show image list »
Letter from Patrick Henry on being governor... The Declaration of Independence is read...
Item # 644093
September 26, 1776
THE LONDON CHRONICLE, England, Sept. 26, 1776

* Declaration of Independence is read
* Patrick Henry letter - Revolutionary War
* Great year to have (1776)

This issue has all of pages 1 & 2 taken up with American war reports, beginning with: "Advices From America" which includes a report datelined from New York, July 15 concerning a letter to be delivered to Washington, plus a dateline of "Philadelphia : In Congress, July 19" beginning: "Resolved, that general Washington, in refusing to receive a letter said to be sent from Lord Howe addressed to George Washington, acted with a dignity becoming his station & therefore this congress do highly approve the same..." and more, signed in type: John Hancock, President. This is followed by another resolve from Congress concerning circular letters forwarded to Congress by General Washington.
Also on the ftpg. is a letter signed by: Howe, from the ship "Eagle, of the coast of the province of Massachusetts's Bay" which is essentially a prefacing letter for his "Declaration" printed here as well for: "...granting his free and general pardons to all those who, in the tumult and disaster of the times, may have deviated from their just allegiance & who are willing, by a speedy return to their duty, to reap the benefits of the royal favour & also for declaring, in his majesty's name any colony, province, county, town, port, district, or place to be at the peace of his majesty...that pardon shall be granted...for promoting such measures as shall be conducive to the establishment of legal government & peace..." signed in type: Howe, and printed: "By order of the congress, John Hancock, President".
This is followed by a report "From the Virginia Gazette, Williamsburgh, July 5" which begins: "The following are the appointments under the new plan of government. Patrick Henry, Junior, Esq., governor..." followed by other appointments. This is followed by a note that: "Upon Colonel Henry's being chosen our governor...he delivered the following letter..." which is followed by Patrick Henry's letter of acceptance of the office of governor carrying over to page 2 where it is signed in type: P. Henry, junior.
Much war-related new continues on page 2 including: "In Congress, June 26, 1776.. Resolved, that a bounty of ten dollars be given to every non-commissioned officer and soldier who will enlist to serve for the term of three years." There is also a letter from Lt. Col. Campbell to General Howe dated at Boston, June 19, 1776 which begins: "I am sorry to inform you that it has been my unfortunate lot to have fallen into the hands of the Americans in the middle of Boston harbour..." followed by the details which take over half the page & signed by him in type: Archibald Campbell (see for portions). Archibald Campbell was one of England's finest military leaders with his efforts in the South, following his nearly two years as a prisoner, as described here.
Also on page 2 is a terrific yet brief item from: "New York, July 11" including: "On Wednesday last, the declaration of independence was read at the head of each brigade of the continental army, posted at and near New York, and every where received with loud huzzas and the utmost demonstrations of joy." And also: "The same evening the equestrian statue of George III, which Tory pride & folly raised in the year 1770, was by the sons of freedom laid prostrate in the dirt..." with more. And a report from Trenton, New Jersey, July 8 notes: "The declaration of independence was proclaimed here, together with the constitution of the colony, of late established, & the resolve of the provincial congress for continuing the administration of justice during the interim." Also from Princeton: "Last night Nassau hall was grandly illuminated and independency proclaimed under a triple volley of musketry & universal acclamations for the prosperity of the united colonies..." and yet another report from Williamsburg.
The next page has a brief item: "The people of Maryland being divested of all hopes of relief from government, acceded to the independent declaration." as well as a "...Letter from Norfolk in Virginia, August 15, 1776" which begins: "I have taken this opportunity of giving you the earliest account of the skirmishes on the 10th instant. Lord Dunmore landed with about 2000 men two miles below this town over against a battery that General Lee has newly erected with some entrenchments..." and more (see). Yet another page has reports concerning the letter from Howe to Washington reported on the front page. And even the back page has some American content which includes: "...declared that rather than betray their king and country they would suffer imprisonment for any length of time...".
Simply a terrific issue with a wealth of great content. Eight pages, 8 1/2 by 11 1/4 inches, a minor stain near the top inside, nice condition.
Category: British