Home
> Rare mention of Paul Revere in these Lexington & Concord reports...
Click image to enlarge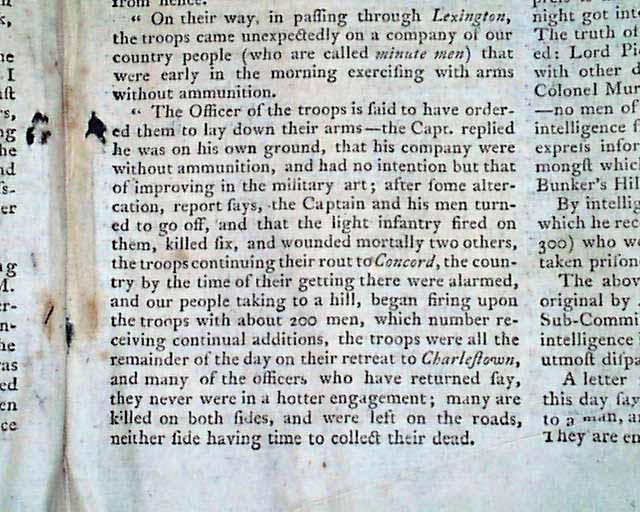 Hide image list »
Rare mention of Paul Revere in these Lexington & Concord reports...
Item # 611758
Currently Unavailable. Contact us if you would like to be placed on a want list or to be notified if a similar item is available.
April 29, 1775
THE PENNSYLVANIA LEDGER, Philadelphia, April 29, 1775 In over 38 years of dealing in rare newspapers I have only encountered one newspaper with a Battle of Lexington and Concord which mentioned Paul Revere and his midnight ride. I sold it many years ago and have regretted it since. But now we have found another.
This is a terrific newspaper covering the historic Battle of Lexington & Concord. Inside has an extract of a letter from Boston, April 19 (date of the battle) with much detail, bits including: "I have taken up my pen to inform you that last night at about 11 o'clock, about 1000 of the best troops in a very secret manner embarked on board a number of boats at the bottom of the Common & went up Cambridge River...they stop'd every person going over the Neck or any ferry, however we soon found a way to get some men to alarm the country (reference to Paul Revere). From thence they marched to Lexington...They ordered them to disperse & immediately fired on them...and then march'd to Concord. This alarm'd the country that it seem'd as if men came down from the clouds...The engagement began about 12 o'clock & continued until seven o'clock..." with much more (see). This is followed by another extract of a Boston letter dated April 20 which has great content on the battle as well as reference to Paul Revere's ride: "...their march towards the Point opposite Phipp's farm where boats were in waiting, that conveyed over the men appointed to alarm the country on such occasions, who got over by stealth as early as the troops & took their different routs..." And further on: "...it was reported that the troops had fired upon & killed five men in Lexington...the party of the light infantry & grenadiers, to the number of about 800, came up to them & ordered them to disperse...only innocently amusing themselves with exercise that they had not any ammunition...answer not satisfying, the troops fired upon them & killed 3 or 4, the others took to their heels & the troops continued to fire...The troops continued their march to Concord...I stood upon the hills in town and saw the engagement very plain, which was very bloody for seven hours. It is conjectured that one half of the soldiers, at least, are killed..." with more.
The reports continue with yet another "Extract of a Letter from Boston, April 20, 1775" which has one of the earliest mentions of minute-men, noting: "...On their way, in passing through Lexington, the troops came unexpectedly on a company of our country people (who are called minute men) that were early in the morning exercising with arms without ammunition..." with much more.
There is the very significant & rarely published letter on the historic battle with mention of Paul Revere. It begins: "These are to inform you that we have undoubted intelligence of hostilities being begun at Boston by the regular troops;...Tuesday night, draughted on about 1000 or 1200 of his best troops in a secret manner, which he embarked on board transports & carried & landed at Cambridge that night...by day break marched up to Lexington were a number of the inhabitants were exercising...upon whom the regulars fired without the least provocation about 15 minutes...from thence they proceeded to Concord, on the road thither, they fired at, & killed a man on horseback, went to the house where Mr. Hancock lodged, who, with Samuel Adams, luckily got out of their way by secret and speedy intelligence from Paul Revere, who is now missing & nothing heard of him since..." and followed by much more concerning the encounters at Lexington & Concord.
American newspapers with timely reports on the Battle of Lexington & Concord are very rare, and those with mention of Paul Revere and his ride are exceedingly scarce.
Complete in 4 pages, some light foxing, a few numerical notations next to advertisements (this was the editor's copy), generally very nice condition.
Category: American