Click image to enlarge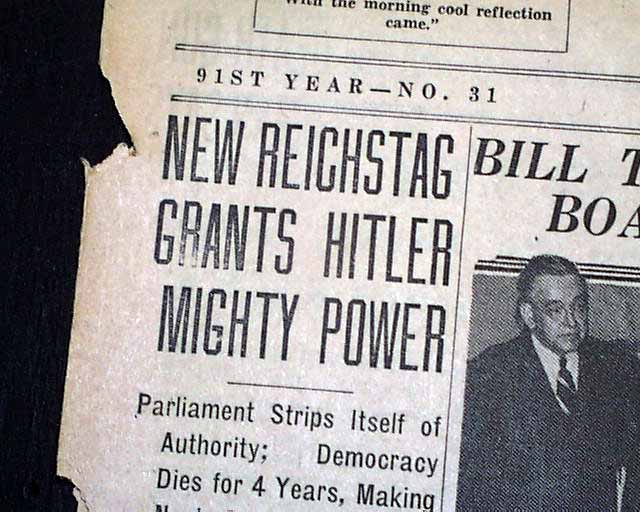 Show image list »
Adolph Hitler gains dictorial powers...
Item # 569578
March 22, 1933
THE KNICKERBOCKER PRESS, Albany, New York, March 22, 1933

* Adolph Hitler gaining power
* Dictatorial rule in Germany

This 16 page newspaper has one column headlines on the front page: "NEW REICHSTAG GRANTS HITLER MIGHTY POWER" "Parliament Strips Itself of Authority; Democracy Dies for 4 Years, Making Nazi Supreme Dictator" and more. (see

Other news of the day. Light browning with little margin wear, otherwise good.

source: wikipedia: The Twenty-first Amendment, which repealed nationwide prohibition, explicitly gives states the right to restrict or ban the purchase or sale of alcohol; this has led to a patchwork of laws, in which alcohol may be legally sold in some but not all towns or counties within a particular state. After the repeal of the national constitutional amendment, some states continued to enforce prohibition laws. Mississippi, which had made alcohol illegal in 1907, was the last state to repeal prohibition, in 1966. There are numerous "dry" counties or towns where no liquor is sold; even though liquor can be brought in for private consumption. It was never illegal to drink liquor in the United States.

On March 23, 1933, President Franklin Roosevelt signed into law an amendment to the Volstead Act known as the Cullen-Harrison bill allowing the manufacture and sale of "3.2 beer" (3.2 percent alcohol by weight) and light wines.[4] The Eighteenth Amendment was repealed later in 1933 with ratification of the Twenty-first Amendment on December 5.

Many social problems have been attributed to the Prohibition era. A profitable, often violent, black market for alcohol flourished. Racketeering happened when powerful gangs corrupted law enforcement agencies. Stronger liquor surged in popularity because its potency made it more profitable to smuggle. The cost of enforcing prohibition was high, and the lack of tax revenues on alcohol (some $500 million annually nationwide) affected government coffers. When repeal of prohibition occurred in 1933, following passage of the Twenty-first Amendment, organized crime lost nearly all of its black market alcohol profits in most states (states still had the right to enforce their own laws concerning alcohol consumption), because of competition with low-priced alcohol sales at legal liquor stores. This possibly led organized crime to further expansions into more illicit and socially harmful criminal activities such as narcotics.[citation needed]

Prohibition had a notable effect on the brewing industry in the United States. When Prohibition ended, only half the breweries that had previously existed reopened. Wine historians also note that Prohibition destroyed what was a fledgling wine industry in the United States. Productive wine quality grape vines were replaced by lower quality vines growing thicker skinned grapes that could be more easily transported. Much of the institutional knowledge was also lost as wine makers either emigrated to other wine producing countries or left the business altogether.[5]

Despite the efforts of Heber J. Grant and the LDS Church, a Utah convention helped ratify the 21st Amendment [6] While Utah can be considered the deciding 36th state to ratify the 21st Amendment and make it law, the day Utah passed the Amendment both Pennsylvania and Ohio passed it as well. All 38 states that decided to hold conventions passed the Amendment, while only 36 states were needed (three fourths of the 48 that existed). So, even if Utah hadn't passed it, it would have become law.

The first beer legally sold in the United States after Prohibition was Utica Club of the F.X. Matt's Brewery in Utica, New York.
Category: The 20th Century
Available Now
$36.00

Add to Cart