Click image to enlarge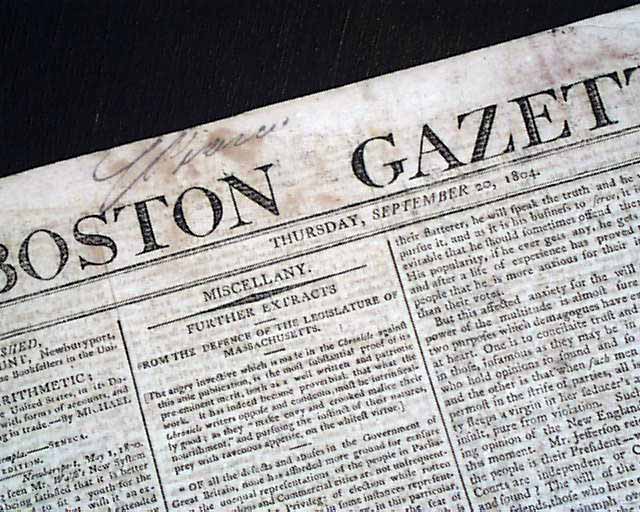 Show image list »
O'Brian's skeleton donated to the College Museum, Dublin...
Item # 563117
BOSTON GAZETTE, Boston, Massachusetts, September 20, 1804

* Aaron Burr
* The Irish Giant - Charles O'Brien

Page 2 has a brief but notable item that says: "Mr. Burr has arrived in Georgia, on his way, it is said, to Louisiana, where the standard of rebellion is already hoisted."

Among the "Deaths" is one that says: "In Ireland, O'Brien, the famous 'Irish Giant,' he gave permission for his skeleton to be prepared for the College Museum, Dublin."

Other news of the day with ads. Archival mends to a few minor spine tears, otherwise in good condition. 4 pages.

wikipedia notes: Charles Byrne (1761 – 1783) also known as Charles O'Brien or "The Irish Giant", was a human curiosity or freak in London in the 1780s.

His exact height is of some conjecture, but most accounts refer to him as from 8'-2" (2,48 m) to 8'-4" (2,54 m) tall, however true and undeniable skeletal evidence pitches him at just over 7ft 7in. At the age of 21 he left his home in Littlebridge, Ireland and traveled to London to seek his fortune. He found work at Cox's Museum, an establishment not unlike P. T. Barnum's American Museum. He moved in next door in an elegant apartment with custom-built furniture at the cane-shop, in Spring Garden-gate.

He soon became the toast of the town, a May 6, 1782, newspaper report bears out: "However striking a curiosity may be, there is generally some difficulty in engaging the attention of the public; but even this was not the case with the modern living Colossus, or wonderful Irish Giant"

Fame and wealth soon overtook him, and he took to drinking excessively. According to newspaper reports he was out drinking when his pocket was picked of his 700 pound life savings. Inconsolable, he tried to drown his sorrows in drink and died June, 1783, in his apartment on Cockspurstreet, Charing Cross, at the age of twenty-two.

It was rumoured that he was so afraid that doctors would dissect his corpse that on his deathbed he requested to be buried at sea. Against his wishes, Byrne's corpse was purchased by John Hunter for five hundred pounds, and his 7'-7" skeleton now resides in the Hunterian Museum at the Royal College of Surgeons in London.

One journal allegedly states that on his death "The whole tribe of surgeons, put in a claim for the poor departed Irishman and surrounded his house just as harpooners would an enormous whale."

Author Hilary Mantel wrote a fictionalized novel of his life in The Giant, O'Brian. The plot of the novel focused on the battle between the revolution of science and the ways of poem and song. O'Brien (Byrne) was portrayed as a man whose faith was in tales of kings and the little people, while his polar opposite John Hunter was portrayed the dawn of the scientific age, destroying all that is old and cherished. It also mentions that O'Brien (Byrne) was related to another Irish giant in Patrick Cotter O'Brien of Cork, who exhibited himself shortly after the death of Charles, stating that he was 8'7" in height. An exhumation of his bones in 1972 showed that his true height was 8'1". The book also mentions a sort of kinship with two other Irish giants known simply as 'The Brothers Knipe' who both stood 7'2" each. They are/were recognized by the Guinness Book of World Records as the tallest identical twins in history.
Category: Pre-Civil War