Click image to enlarge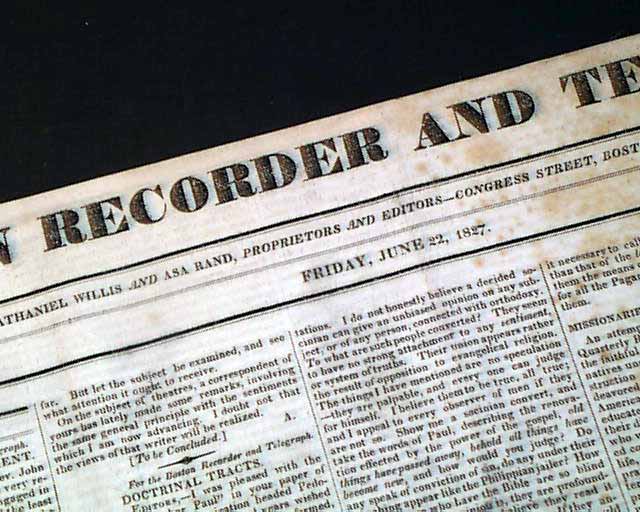 Show image list »
No Harmony at New Harmony...
Item # 558605
June 22, 1827
BOSTON RECORDER & TELEGRAPH, Boston, Massachusetts, June 22, 1827

* New Harmony Indiana
* Robert Owen

Page 3 has a report: "New Harmony--Mr. Owen has sold a great part of his property at N. Harmony, leased the remainder, and left it on his return from Scotland. W. Maclure, in the Philadelphia Gazette, warns people not to trust Mr. Owen on his account".

Report is in a large area of concentrated foxing.

Other news of the day. Mentioned foxing, otherwise in good condition. 4 pages.

wikipedia notes: New Harmony, formerly named Harmony, was founded by the Harmony Society, headed by German immigrant George Rapp (actually Johann Georg Rapp) in 1814. This was the second of three towns built by the pietist, communal German religious group, known as Harmonists, Harmonites or Rappites. The other two towns founded by the Harmonites were Harmony, Pennsylvania (their first town), and Economy, Pennsylvania (now called Ambridge, Pennsylvania.) When the society decided to move back to Pennsylvania around 1824, they sold the 30,000 acres (121 km²) of land and buildings to Robert Owen, the Welsh utopian thinker and social reformer, and to William Maclure for $150,000, who then changed the name from "Harmony" to "New Harmony." Owen recruited residents to his model community, but a number of factors led to an early breakup of the communitarian experiment.
New Harmony as envisioned by Owen

The figure shown here as "New Harmony as envisioned by Owen" was captioned by the architect who drew the figure, Stedman Whitwell, as "Design for a Community of 2000 Person founded upon a principle Commended by Plato, Lord Bacon and Sir Thomas More." Whitwell (1784-1840) lived in New Harmony during 1825. His Design is discussed at length in Description of an Architectural Model. In Edward Royle's Robert Owen and the Commencement of the Millennium, (Manchester University Press, 1998), Whitwell's figure is presented in a chapter on Harmony, the name of Owen's community in Hampshire, England, dating from 1841, although the figure was published in 1830 and almost certainly existed as early as 1825.

The experiment was established in 1825 and dissolved in 1829 due to constant quarrels. The town banned money and other commodities. Individualist anarchist Josiah Warren, who was one of the original participants in the New Harmony Society, asserted that the community was doomed to failure due to a lack of individual sovereignty and private property. He wrote of the community: "It seemed that the difference of opinion, tastes and purposes increased just in proportion to the demand for conformity. Two years were worn out in this way; at the end of which, I believe that not more than three persons had the least hope of success. Most of the experimenters left in despair of all reforms, and conservatism felt itself confirmed. We had tried every conceivable form of organization and government. We had a world in miniature. --we had enacted the French revolution over again with despairing hearts instead of corpses as a result. ...It appeared that it was nature's own inherent law of diversity that had conquered us ...our 'united interests' were directly at war with the individualities of persons and circumstances and the instinct of self-preservation... and it was evident that just in proportion to the contact of persons or interests, so are concessions and compromises indispensable." (Periodical Letter II 1856).
New Harmony, a utopian attempt; depicted as proposed by Robert Owen

Although Owen's vision of New Harmony as an advance in social reform was not realized, the town did become a scientific center of national significance. As President of the Academy of Natural Sciences of Philadelphia, William Maclure brought naturalists Thomas Say and Charles-Alexandre Lesueur to New Harmony from Philadelphia. Say has been called the father of American entomology and the father of American conchology. Many species were first described by both Say and Leseuer, and many have been named in their honor. Say died in New Harmony in 1834, and Leseuer returned to his native France in 1837.

Lesueur's sketch, "The Church of the Harmonists," shown here by courtesy of the Academy of Natural Sciences of Philadelphia, is one of many preserved in the Lesueur Collection at the Academy.
The Church of the Harmonists by Charles Alexandre Lesueur

In 1837, David Dale Owen, a son of Robert Owen, finished his formal education as a medical doctor. However, returning to New Harmony, and having been much influenced by Robert Maclure and Gerhard Troost, Owen became a geologist. With headquarters in New Harmony, Owen conducted the first official geological survey of Indiana (1837-39), and he led federal surveys in 1839-40 and 1847-51. Owen was the first state geologist of three states: Indiana, Kentucky, and Arkansas. His museum in New Harmony was known as the largest museum west of the Alleghenies. At the time of his death in 1860, the museum included some 85,000 items. Of Owen's many publications, perhaps the most significant is his 638-page Report of a Geological Survey of Wisconsin, Iowa, and Minnesota and Incidentally of a Portion of Nebraska Territory, including colored maps and drawings of fossils, published in Philadelphia in 1852.

Among younger men under David Dale Owen's leadership and influence during the survey just mentioned were Benjamin Shumard Franklin (for whom the Shumard oak is named, first state geologist of Texas, hired by Sam Houston), Amos Henry Worthen (second state geologist of Illinois), Fielding B. Meek (first full-time paleontologist of the Smithsonian Institution), and Richard Owen (brother of David Dale Owen, resident of New Harmony, second state geologist of Indiana, first president of Purdue University).

One of David Dale Owen's colleagues and co-authors, also a medical doctor, was Joseph Granville Norwood. Dr. Norwood was the first state geologist of Illinois (1851-1858). From 1851 to 1854, the Illinois State Geological Survey was headquartered in New Harmony.

In 1838, William Maclure established The Working Men's Institute in New Harmony. It includes the oldest continuously operating library in the state of Indiana, as well as a small museum. The vault in the library contains many historic manuscripts, letters, and documents pertaining to the history of New Harmony. An entire issue (June 1998) of the Indiana Magazine of History is devoted to the life and work of William Maclure. Under the general editorship of Donald E. Pitzer and Josephine Mirabella Elliott, the issue includes eight articles.

The eldest son of Robert Owen was Robert Dale Owen. (Several of Robert Owen's children were given the middle name Dale in honor of Owen's father-in-law, David Dale.) R. D. Owen was a social reformer and intellectual of national importance. As a member of the U. S. House of Representatives from 1843 to 1847, he introduced the bill establishing the Smithsonian Institution, and he served as chairman of the Smithsonian Building Committee. He arranged for his brother David Dale Owen to sample a large number of possible building stones for the Smithsonian Castle. D. D. Owen selected the distinctive Seneca Creek Sandstone of which that building is constructed.

Later, R. D. Owen held the diplomatic position of charge d'affairs (1853-1858) in Naples, Italy. In the 1850s, he began studying spiritualism, and in 1860, his book Footfalls on the Boundary of Another World aroused something of a literary sensation. Among his hecklers in the Boston Investigator and at home in the New Harmony Advertiser were John and Margaret Chappellsmith, he formerly an artist for David Dale Owen's geological publications, and she a former Owenite lecturer.
Category: Pre-Civil War
Available Now
$28.00

Add to Cart