Click image to enlarge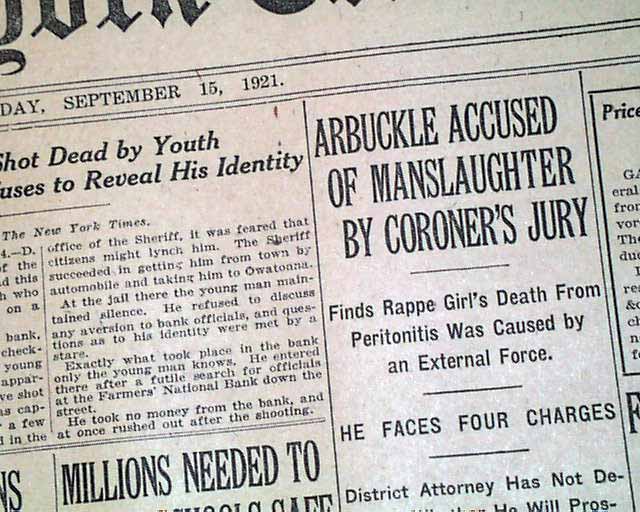 Show image list »
Fatty Arbuckle indictment...
Item # 547898
September 15, 1921
THE NEW YORK TIMES, from New York, dated September 15, 1921.

* Comedian/Actor
* Roscoe 'Fatty' Arbuckle indictment
* Manslaughter

This 40 page newspaper has one column headlines on the front page that include:

* ARBUCKLE ACCUSED OF MANSLAUGHTER BY CORONER'S JURY
* Finds Rappe Girl's Death From Peritonitis Was Caused by an External Force
* He Faces Four Charges

and more.

Other news of the day . This issue is browned with some margin wear but no text loss. Should be handled with care.

source: wikipedia: At the height of his career, Arbuckle was under contract to Paramount Pictures for $1 million a year — the first multi-year/multi-million dollar deal paid by a Hollywood studio.[1] He worked tirelessly, filming three feature films simultaneously. On September 3, 1921 Arbuckle took a break from his hectic film schedule and drove to San Francisco with two friends, Lowell Sherman (an actor/director) and cameraman Fred Fischbach. The three checked into the St. Francis Hotel, decided to have a party, and invited several women to their suite. During the carousing, a 30-year-old aspiring actress named Virginia Rappe became seriously ill and was examined by the hotel doctor, who concluded her symptoms were mostly caused by intoxication.

Rappe died three days later of peritonitis caused by a ruptured bladder. Rappe's companion at the party, Maude Delmont, claimed before a grand jury that Arbuckle had somehow pierced Rappe's bladder while raping her. Rappe's manager Al Semnacker (at a later press conference) accused Arbuckle of using a piece of ice to simulate sex with her, which led to the injuries. By the time the story was reported in newspapers, the object had 'evolved' into being a Coca-Cola or Champagne bottle, instead of a piece of ice. In fact, witnesses testified that Arbuckle rubbed the ice on Rappe's stomach to ease her abdominal pain. Arbuckle was confident that he had nothing to be ashamed of, and denied any wrongdoing. Delmont later made a statement incriminating Arbuckle to the police in an attempt to extort money from Arbuckle's attorneys, but the matter soon spun out of her control.

Roscoe Arbuckle's career is cited by many film historians as one of the great tragedies of Hollywood. His trial was a major media event and stories in William Randolph Hearst's nationwide newspaper chain were written with the intent of making Arbuckle appear guilty. The resulting scandal destroyed both his career and his personal life. Morality groups called for Arbuckle to be sentenced to death, and studio executives ordered Arbuckle's industry friends (whose careers they controlled) to not publicly speak up for him. Charlie Chaplin was in England at the time. Buster Keaton did make a public statement in support of Arbuckle, calling Roscoe one of the kindest souls he had known. Film actor William S. Hart, who never worked with Arbuckle, made public statements which presumed that Arbuckle was guilty.

The prosecutor was San Francisco District Attorney Mathew Brady, who was determined to get a conviction as he was planning to use the case in his campaign to run for governor. To this end, Brady made public pronouncements of Arbuckle's guilt and pressured witnesses to make false statements. During the hearing and despite the judge threatening a motion to dismiss the case, Brady refused to allow the only witness accusing Arbuckle, Maude Delmont, to take the stand and testify. Delmont had a long criminal record with convictions for racketeering, bigamy, fraud and extortion. The defense had also gotten hold of a letter from Delmont admitting to a plan to extort Arbuckle. Along with Delmont's constantly changing story, for her to testify would have ended any chance of going for trial. In his summation, the judge demolished every bit of the prosecution's evidence, and harangued Brady for producing such a flimsy case. The judge found no evidence of rape, but decided that Arbuckle could be tried for manslaughter.
Category: The 20th Century
Available Now
$35.00

Add to Cart