Search Within Results:
Excluding Text:
Min price:
$

—
Max price:
$
Other Potential Titles...
Note: In addition to what may or may not be shown below, issues may be available for this date which have yet to be listed on our website.
View Potential Titles for 08/01/1817

Due to the size of our inventory, it is possible we still may have what you are looking for. Please call (570-326-1045) or send your request to info@rarenewspapers.com.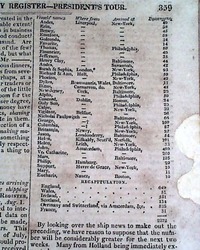 August 02, 1817
NILES' WEEKLY REGISTER, Baltimore, August 2, 1817 Over half a page is taken up with: "Emigration - Account of Emigrants from Foreign Countries Arriving in the United States..." which includes a chart of the names of the ships, where from, where arrived at, and the number of passengers. Also: "President's Tour" which includes several addresses to him & his resp...
See More
August 16, 1817
NILES' WEEKLY REGISTER, Baltimore, August 16, 1817 Inside has a full page on the life of: "Dupont De Nemours" who had recently died. He was also father of E. I. duPont De Nemours, who would begin a business dynasty in America. The back page has a chart listing the: "Baptists in the United States" by state. Also a chart of the: "Altitudes of Mountains" in the...
See More
If you are searching for a newspaper from a specific date, please note that we have a vast selection available for purchase by using the date picker on our
gifts and birthday newspapers
page.