eBay Listings Search Results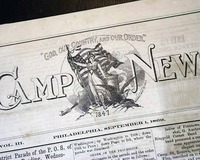 Rare PHILADELPHIA PA Patriotic Order Sons of America 1870 Camp Newspaper
eBay Fixed Price Item # 392234106720
Offered is an original, historic, & collectible old newspaper: CAMP NEWS, Philadelphia, Sept. 1, 1869 This was the: "National Organ of the Patriotic Order Sons of America". This fraternity still exists, and their information notes the beginnings of the P.O.S. of A. is found in the early days of the American Republic. Patriots banded together to uphold the principles of Americanism and duty to the flag, including the preservation of the public school system, The Constitution of the United Sates and the American way of life. An historic service rendered by the Patriotic Order Sons of America includes the saving of Washington's Headquarters at Valley Forge and the surrounding grounds. Eight pages, plus there is a single sheet "Supplement Camp News" which has patriotic lettering (see...
See More
Buy Now on eBay
Ends March 10, 2019 15:23
$43.00
Historic Revolutionary War ARTICLES OF CONFEDERATION 1778 Philadelphia Newspaper
eBay Fixed Price Item # 372252892737
Shown is an original & historic old newspaper, offered to enhance your collectible interest: THE PENNSYLVANIA LEDGER OR THE PHILADELPHIA MARKET-DAY ADVERTISER, March 11, 1778 * The Articles of Confederation (historic) * American Revolutionary War This was a strongly Tory newspaper which began in 1775 and closed shop in May of 1778 when the British evacuated Philadelphia. There are only a handful of documents in American history which can be considered cornerstones in the creation of our national government, which would include the Declaration of Independence, the Articles of Confederation, and the Constitution among a few others as well. This issue contains on the front page and page 2 the complete printing of one of these, headed at the top of the middle column on the front ...
See More
Buy Now on eBay
Ends April 18, 2018 14:49
$12,500.00