eBay Listings Search Results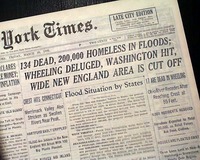 GREAT ST. PATRICK'S DAY FLOOD Pittsburgh Williamsport PA Disaster 1936 Newspaper
eBay Fixed Price Item # 374119998323
Offered is an original, historic, & collectible old newspaper: THE NEW YORK TIMES, March 20, 1936  * The Great St. Patrick's Day Flood * Williamsport, Pennsylvania - Susquehanna River The front page has a four column headline: "135 DEAD, 200,000 HOMELESS IN FLOODS; WHEELING DELUGED, WASHINGTON HIT, NEW ENGLAND CUT OFF ABOVE HARTFORD" with many subheads. (see) Also a two column headline on the front page: "Williamsport, Pa., Scene of Desolation; City in Darkness and Damaged by Fire" (see) Coverage on the Pittsburgh Flood of 1936 in which much of the Northeast was inundated with flood waters. Other news, sports and advertisements of the day. Complete in 48 pages, rag edition in very nice condition.
Buy Now on eBay
Ends July 08, 2022 09:35
$35.00
WINDSOR HOTEL Manhattan New York St. Patrick's Day FIRE Disaster 1899 Newspaper
eBay Fixed Price Item # 373934618862
Offered is an original, historic, & collectible old newspaper: THE EVENING TRIBUNE, San Diego, March 18, 1899 * Windsor Hotel (Manhattan) * St. Patrick's Day fire disaster   The top of the front page has a one column heading: "THE DEAD AND DYING" with subheads. (see) Surprisingly this issue is in good condition being from the "wood pulp" era. Very hard to find issues that are not totally fragile from this era in paper. Rare as such. Complete with 8 pages, a few small library stamps within the masthead, a few small binding holes along the spine, generally very nice.
Buy Now on eBay
Ends March 16, 2022 12:48
$40.00