eBay Listings Search Results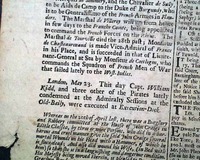 Very Rare Pirate Captain William Kidd Execution Hanging Piracy 1701 Newspaper
eBay Fixed Price Item # 374185560164
Offered is an original, historic, & collectible old newspaper: THE LONDON GAZETTE, England, May 22-26, 1701  * Infamous pirate Captain William Kidd * Historic & extremely rare report * Execution - hanging The London Gazette is the oldest continually published newspaper in the world, having started in 1665 and is still publishing today. This issue contains on page two an exceedingly significant report--perhaps the rarest and most sought after pirate report to be found in any newspaper--which is datelined "London, May 23" and reads: "This day Capt. William Kidd, and three other of the Pirates lately condemned at the Admiralty Sessions at the Old-Baily, were executed at Execution-Dock." Certainly the first, if not the only report on the death of Captain Kidd as th...
See More
Buy Now on eBay
Ends August 22, 2022 07:50
$16,500.00
WILLIAM CAPTAIN KIDD Infamous Pirate Treasure Found Long Island ? 1908 Newspaper
eBay Fixed Price Item # 373514844417
Offered is an original, historic, & collectible old newspaper: THE EVENING TRIBUNE, San Diego, March 6, 1908 * William - Captain Kidd * Infamous 17th century pirate * Treasure found at Long Island ? The front page has a one column heading: "FOUND TREASURE OF CAPTAIN KIDD" with subhead. (see) Surprisingly this issue is in good condition being from the "wood pulp" era. Very hard to find issues that are not totally fragile from this era in paper. Complete with 8 pages, small library stamps within the masthead, some small binding holes along the spine, generally nice.
Buy Now on eBay
Ends April 26, 2021 13:36
$44.00