eBay Listings Search Results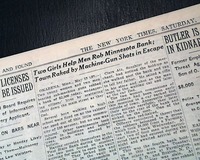 Rare BONNIE & CLYDE Bandits Okabena MN Minnesota BANK ROBBERY 1933 Old Newspaper
eBay Fixed Price Item # 394047180054
Offered is an original, historic, & collectible old newspaper: NEW YORK TIMES, May 20, 1933  * Bonnie Parker & Clyde Barrow * Okabena, Minnesota bank robbery * Rare & early report on this infamous duo The top of the back page has a fascinating article which would seem rather mundane for the time, until a little investigation is done. The article is headed: "Two Girls Help Men rob Minnesota Bank; Town Raked by Machine-Gun Shots in Escape" and begins: "Two young women and two men bearing sub-machine guns robbed a bank of $2,500 today...scattering shots down the main street as they fled..." with much more detail. This robbery was reportedly committed by the infamous Bonnie & Clyde, (see Wikipedia) which if true would be the earliest report of their robberies we have found in a news...
See More
Buy Now on eBay
Ends May 26, 2022 14:53
$65.00
BONNIE AND CLYDE Outlaws Gang Pre Killed by Police TIPSTERS ? 1934 Old Newspaper
eBay Fixed Price Item # 392923126027
Offered is an original, historic, & collectible old newspaper: THE NEW YORK TIMES, May 22, 1934 * Billie Jean Parker & Floyd Hamilton * Bonnie and Clyde gang members arrested * The tipsters to law enforcement re. whereabouts ? Page 16 has an article with small headings: "2 Of Barrow Gang Held" "Woman and Man Relative of Bandit Accused of Texas Killings" (see) First report coverage on the arrest of Floyd Hamilton and Bonnie Parker's sister. Bonnie and Clyde where ambushed and killed just two days later. Could these two have been on ones who tipped law enforcement to the whereabouts of the infamous duo or was it just a coincidence. I suspect this is one of the few publications to report this particular event as other titles in our inventory do not. Other news, sports and advertise...
See More
Buy Now on eBay
Ends September 28, 2020 13:28
$52.00